Samsung Seen Portraying Apple's $2 Bln Claim as Greedy
Joel Rosenblatt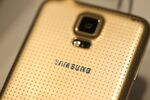 Samsung Electronics Co. wants $6.2 million from Apple Inc. for copying its technology, a figure an intellectual property expert said is meant to make the $2 billion sought by the iPhone maker over its own smartphone patents look excessive.
One measure of how little Samsung is seeking: It spent at least $3.1 million on consultants to figure out how much compensation it deserves, according to a witness who presented the Suwon, South Korea-based company's damages to jurors today in federal court in San Jose, California.
Apple, which was awarded $930 million in damages after the companies' first U.S. trial two years ago, this time is demanding as much as $40 for each of more than 37 million Samsung devices it says are infringing patents. Samsung, maker of the Galaxy phones, hasn't publicly disclosed the number of Apple devices on which it based its royalties request.
The huge disparity in payouts sought by the companies "reflects a strategic decision by Samsung to portray Apple as greedy, given the remarkably high per-phone price Apple is seeking," Mark Lemley, a Stanford Law School professor specializing in intellectual property, said in an e-mail.
Going into their second U.S. trial last month, the world's top two smartphone makers already had spent hundreds of millions of dollars in legal fees over battles on four continents to dominate a market that was valued at $338.2 billion last year, according to data compiled by Bloomberg.
Industry Revenue
Samsung had 31 percent of industry revenue, compared with 15 percent for Apple, whose share of the market has shrunk as the touch-screen interface has become commonplace and Samsung, LG Electronics Inc. and Lenovo Group Ltd. have introduced lower-cost alternatives.
In the 2012 trial, the jury rejected all of Samsung's patent claims against Apple. In the current trial, Samsung alleges that two of its patents are infringed by Apple's iPhone 4 and 5 models and fourth and fifth generation iPods.
One patent, for which Samsung seeks $6,067,788 from Apple, covers technology for compressing video data so it can be sent over a cellular network. The other, for which Samsung calculates royalties at $158,400, is for functions related to retrieving, classifying and organizing digital images.
Apple claims that 10 Samsung products, including the Galaxy S3, infringe five patents covering a range of user-interface designs for the iOS software that powers iPhones and iPads, including features like the slide-to-unlock function, automatic spelling corrections, and the ability for a user to make a call by clicking on a phone number within a Web page or e-mail instead of having to dial it separately.
Others functions Cupertino, California-based Apple says are covered by its patents include searching for words in files stored in different applications and updating applications while using other features of the phone.
Lemley said the difference in damages requests helps explain why the the companies didn't settle out of court with cross-licensing agreements.
"Apple clearly thinks -- rightly or wrongly -- that their patents are worth much more than Samsung does," he said.
The case is Apple Inc. v. Samsung Electronics Co., 12-cv-00630, U.S. District Court, Northern District of California (San Jose).
Before it's here, it's on the Bloomberg Terminal.
LEARN MORE