Japanese Men Bringing Up Babies Aim to Send Wives to Work
Tomoko Yamazaki and Komaki Ito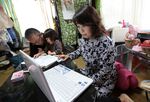 Manabu Tsukagoshi, a Tokyo-based consultant, took a month of paternity leave after his second child was born. That prompted his stay-at-home wife to get a full-time job in the financial industry.
"When someone asks why I would take such leave when my wife was a stay-at-home mom, I tell them it was for her to go back to work," said Tsukagoshi, 38, who plans to take leave again later this year, from Toray Corporate Business Research Inc., when his wife returns to work after having their third child. "We need role models to show that there are fathers who can do this."
While Tsukagoshi is among a tiny minority in Japan, Prime Minister Shinzo Abe wants men to take more-active roles in childrearing under a campaign dubbed the "Ikumen Project," which translates as men raising children. Just 1.9 percent of Japanese men took paternity leave in 2012, according to figures from the government's Cabinet Office. The goal is to raise the figure to 13 percent by 2020.
Some financial-industry firms, including Nippon Life Insurance Co. and Meiji Yasuda Life Insurance Co., are among companies that have responded with new programs to encourage men to take time off after children are born. Nippon Life, Japan's largest insurer, announced on March 20 that paternity-leave participation had reached 100 percent.
"The Ikumen Project has helped make people realize that men can have an important role in childrearing," said Masako Ishii-Kuntz, a sociology professor at Ochanomizu University in Tokyo. "Having said that, there's a huge gap between the ideal situation and the reality, and that gap needs to be filled."
Changing Culture
The government is also seeking to increase the percentages of employees taking annual paid vacation from 47 percent to 70 percent, and women returning to work after giving birth from 38 percent to 55 percent by 2020.
If paternity leave and women's workforce participation rise, "the entire society will likely grow to become more prosperous," according to the goals of the Ikumen Project's policy outlined on its website.
"We see more young fathers dressed in suits and carrying babies in baby carriers, so the climate is definitely changing," said Ishii-Kuntz. "The culture has to change first so that men will view taking childcare leave differently."
Under Japanese law, male employees with young children are entitled to one year of childcare leave if they have worked more than 12 months for the same employer. While on leave, employees can qualify to receive government unemployment benefits, and the employer isn't obliged to pay salaries.
Multitasking Difficulty
Paternity leave is most common in Scandinavia and some countries of western Europe, with men taking two weeks to 14 weeks, according to a 2012 report by the Organization for Economic Cooperation and Development, which didn't cite a U.S. or Japanese statistic.
The gap between what Japanese women and men earn is the second-highest among developed countries, behind South Korea, according to the organization. Female full-time employees in Japan earned on average 29 percent less than men compared with a 16 percent average difference for OECD countries, the data showed. In South Korea it was 39 percent.
Women in Japan earn 72 cents to every dollar earned by men, according to data from the health ministry for full-time employees. That compares with 77 cents in the U.S., according to a report last month by the U.S. president's Council of Economic Advisers.
Embracing Policy
Kazuki Shiota, a manager in closely held Nippon Life's corporate planning department, took advantage of the company program for a week last year to help care for his one-year-old child on a family trip.
"I didn't expect men were allowed to take childcare leave, but when I took a closer look at the company policy, it did say we could," said Shiota, who tended the child alone for a day. "You realize the difficulty of multitasking when you actually are faced with playing with your child while doing chores. If I am allowed to take more days, I would, because my child is growing up every day as we speak."
Nippon Life's male employees with young children are eligible and are recommended to take a week off, according to Kyomi Nakakura, manager of the department supporting the initiative, which started last April. Fathers embraced the policy after an internal campaign that included sharing experiences of those who took leave, as well as discussions with eligible employees, she said.
New Normal
"The biggest challenge for us is to make this a norm," Nakakura said. "We want to plant the idea that we will be able to support them so that they can continue working for us."
Corporate change needs to come from the bosses, so the government is funding programs and lectures to get managers to encourage paternity leave, Minister of State for Gender Equality Masako Mori said in an April 9 interview in Tokyo.
"Just because there's a companywide system in place, it doesn't mean people feel able to say they're going to take time off," Mori said. "So we will have the bosses encourage them to do it: 'Your kid is small, so go home early. The others will take up the slack.'"
Japanese employees, asked why they don't take even the vacation days they're entitled to, cited among other reasons embarrassment "because others don't take them," not wanting to trouble colleagues and too much workload, a report by the Japan Institute for Labour Policy and Training showed.
An evaluation system weighted toward seniority and time spent in the office rather than productivity and merit also discourages men from taking leave, according to Kathy Matsui, the first female partner at Goldman Sachs Group Inc. in Japan and known for her Womenomics reports.
Evaluation Systems
"If men feel that taking paternity leave will negatively impact their evaluations, then naturally they will be reluctant to take such leave," she wrote in an e-mailed response to questions. "If, however, evaluation systems were more performance- or merit-based, this should allow for more paternity leave."
Meiji Yasuda Life is among companies changing performance-review systems accordingly. Japan's third-largest insurer now increases the evaluation level of a boss and his or her department when a subordinate takes leave, said Nanae Awaji, a former human resources supervisor who now works as a business manager.
"Taking leave to boost your own assessment isn't reflected nicely among men, so we created a system whereby in taking such leave, the assessment of the entire division to which the person who took the leave belongs will be boosted," Awaji said.
Women Shining
Abe has said he wants a society where "women can shine" by eliminating daycare-center waiting lists and training mothers to return to work. He has encouraged publicly traded companies to have at least one female executive and set a goal of women holding 30 percent of leadership positions in all areas of society by 2020, when Tokyo hosts the Summer Olympics.
The prime minister told a meeting of advisory panels on March 19 to reconsider a system that discourages women from working more hours lest they face additional taxes and exclusion from their husbands' insurance and pension plans.
Japanese women's workplace participation is lower than in comparable developed countries: 74 percent compared with 86 percent in the U.S. and 93 percent in Sweden, the 2012-13 Global Competitiveness Report from the World Economic Forum showed. The rate ranks Japan at 87th globally, more than 50 places behind China, which is 34th.
Women's Participation
Women made up 52 percent of employees in financial firms and insurers, above the 43 percent average for all 18 industries tracked by the government in 2009, according to the most recent data available. The financial industry ranked fourth for women's participation after service industries including hospitality and restaurants, followed by medical and entertainment, the data showed.
More men deciding to take leave and help their wives start working will lead to faster growth, Matsui said. Japan could expand its workforce by 8 million and increase its gross domestic product by as much as 14 percent by raising the level of women in employment to about 80 percent, the same as men, she estimated.
"The statistics suggest that the amount of paternity leave taken by Japanese fathers is low versus other developed countries, so more can probably be done to change this," Matsui wrote, citing the example of Sweden, which provides government-funded parental-leave benefits.
"Japan doesn't necessarily need to replicate this, but some kind of economic incentives may help encourage changes in behavior," she wrote in the e-mail.
'Absolutely Impossible'
Japan has suffered through 15 years of falling prices and saw China overtake it as the world's second-biggest economy in 2010. The nation's population will probably fall below 100 million in 2048 for the first time since 1966 from 127 million this year, based on estimates from the National Institute of Population and Social Security Research, as women lacking childcare support keep birth rates below replacement levels.
Lack of help is a factor for working women like Yuko Nagai, who wants to step up to a management role after earning an MBA. Nagai, whose husband is a manager at an Internet media company, said it's almost impossible for her husband to take any leave to help with their four-year-old child.
"It's absolutely impossible without my husband's help," Nagai, who works full-time at a publicly traded company she declined to identify. "If only my husband could take three to six months off, or if the government can at least make it mandatory for employees to take 10 days off a year, that would even do."
Before it's here, it's on the Bloomberg Terminal.
LEARN MORE