Hurricane Sandy Victims Highlight Main Street Lending Shortfalls
by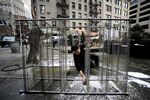 The Small Business Administration approved $468 million in disaster loans to New York, New Jersey, and Connecticut businesses in the wake of Hurricane Sandy. Despite those loans, the lion's share of small businesses affected by the storm are struggling to meet their financing needs, according to survey results published by the Federal Reserve Bank of New York.
The new data come from the New York Fed's twice-yearly study on small business lending, which collected responses from 950 small businesses located in federal government disaster zones in late 2013. More than half of respondents who applied for credit were turned down.
About 40 percent of the businesses surveyed said they were affected by Sandy. Of those affected, most were still looking for financing one year after the storm, with a typical respondent seeking a working capital loan for less than $100,000.


The New York Fed says the survey results don't necessarily represent the experience of all small businesses in Sandy disaster zones. But the data elucidate a core problem for Main Street borrowers: Loans for small dollar amounts are hard to come by.
Nationwide, SBA-guaranteed loans in amounts less than $150,000 are up substantially (PDF) from last year—an improvement probably attributable to the agency's move to eliminate fees on small loans. And alternative lenders that specialize in dispensing small, high-cost loans to merchants now deal in volumes that rival the SBA's loan numbers, according to published estimates from the nonbank finance companies.
The big market for high-cost small business loans amplifies what the New York Fed found among Sandy victims: There's unmet demand for small business loans in small amounts.
Before it's here, it's on the Bloomberg Terminal.
LEARN MORE