Gilead Sales Double on $1,000 Hepatitis C Pills
by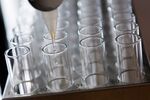 It turns out you can make real money selling $1,000 pills. That's what Gilead Sciences discovered in the quarter since the debut of Sovaldi, its hepatitis C treatment that has drawn attention for both its advances over existing therapies and its high price tag.
Sovaldi sales helped Gilead reach $4.9 billion in product revenue in the first quarter, double the same period in 2013. Revenue of $2.27 billion from the drug was double analysts' estimates, Bloomberg News reported. A 12-week course of Sovaldi, which is taken once a day, costs $84,000.
On a conference call with Gilead executives, one analyst called it "the best launch of any drug of all time that I'm aware of."
About 30,000 patients have begun treatment with Sovaldi since the Food and Drug Administration approved it in December 2013, Gilead executives said. Most of the sales—$2.1 billion—came from the U.S., with the remaining patients coming from Germany and France.
"That number will continue to increase as regulatory approvals and reimbursements are achieved," said Paul Carter, Gilead's executive vice president of commercial operations. "We have so far reached just a small fraction of patients who can benefit from treatment in the future."
Chronic hepatitis C affects about 3.2 million Americans, according to the Centers for Disease Control. Gilead's challenge is to convince those paying for medical care—insurance companies, governments, and employers—that Sovaldi's benefits justify its high cost. Not everyone is convinced. Medical experts from the California Technology Assessment forum, a group with ties to insurance companies, made the case last month that the price was too high.
The company estimates that about 90 percent of Sovaldi's sales were split almost evenly between Medicare and private insurers. Already the cost of the drug put a dent in the earnings of UnitedHealth Group, the largest insurance company in the U.S. UnitedHealth paid $100 million for the drug in the first quarter, the company said last week. UnitedHealth Chief Financial Officer Dan Schumacher told analysts that the figure was "a multiple of what we had expected." The price of Sovaldi may drop over time, particularly if competing hepatitis C drugs in the pipeline reach the market.
Before it's here, it's on the Bloomberg Terminal.
LEARN MORE