Cnooc Quarterly Sales Climb on Full Nexen Contribution
Aibing Guo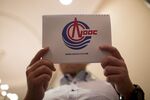 Cnooc Ltd., China's biggest offshore energy explorer, posted gains in first quarter output and sales as production rose at its Canadian unit Nexen.
The state-owned company, which has failed to hit its average production growth targets since 2011, is banking on its Nexen acquisition and further spending to boost output, to fulfill a government mandate of securing supplies to meet burgeoning energy demand in China.
Sales rose 7.7 percent to 60.5 billion yuan ($9.7 billion) in the three months ended March 31, from 56.2 billion yuan a year earlier, the company said in a statement to the Hong Kong stock exchange yesterday. Output rose 15 percent to 108.1 million barrels of oil equivalent. Cnooc, which gets most of its income from oil and gas production, didn't report profit for the period.
The Beijing-based explorer will produce 422 million to 435 million barrels of oil equivalent over the year, or a 5.6 percent increase from 2013, Cnooc said in January. The production level in the first quarter has laid a foundation for it to achieve that target, Hong Kong-based Barclays Plc analysts including Somshankar Sinha and Ying Lou said in an-emailed report today.
"With project startups gathering pace, Cnooc is well on track to meet the upper end of its output growth guidance for 2014," they said.
Nexen Contribution
Cnooc shares fell 1.7 percent to HK$12.72 as of 10:46 a.m. in Hong Kong. The stock declined 7.7 percent in the past year, compared with a 3.9 percent gain in the city's benchmark Hang Seng Index. Cnooc's first quarter statement came after market hours yesterday.
The explorer set an average annual production growth target of 6 percent to 10 percent from 2011 to 2015, which it has failed to meet since 2011. Chief Executive Officer Li Fanrong said in March Cnooc can still meet the target by significantly increasing output in 2015.
Production in the quarter rose mostly because the company accounted for a full quarter of Nexen's output, compared with one month in the same period a year earlier. At $15.1 billion, the acquisition is the biggest overseas purchase by a Chinese company and was completed in February 2013.
On a like-for-like basis, Cnooc's production climbed about 2 percent, said Laban Yu, a Hong Kong-based analyst at Jefferies Group LLC.
Output Growth
Capital spending in the quarter rose to 19.3 billion yuan from 14.9 billion yuan a year ago, Cnooc said.
"We are still committed to the 120 billion yuan capital spending" target for 2014 announced earlier this year, Chief Financial Officer Zhong Hua said on a conference yesterday.
The prospect of additional spending signals further output growth, said Yu.
"Considering what they have promised to spend this year, I'm positive that Cnooc's production may get better in the coming quarters with new projects kicking in," he said.
Cnooc made five new discoveries in the first quarter and completed appraisals of eight offshore wells in China, according to the statement. Sales from oil and gas, excluding marketing revenue and income other than its core business, rose 6.9 percent to 59.2 billion yuan from a year ago. Realized oil prices dropped 5.1 percent to $104.6 per barrel from the previous period.
Before it's here, it's on the Bloomberg Terminal.
LEARN MORE