pursuits
Chobani Greek Yogurt for Lunch, Dinner, and Dessert?
By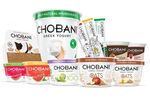 Chobani's made a booming business of selling a thicker, Greeker version of the yogurt Americans were familiar with. Now the country's largest yogurt brand wants to branch out to other categories, such as desserts and cooking ingredients.
Just as Starbucks has tried to get customers into cafes after the morning rush by launching more food, cold drinks, and even alcohol, Chobani is also getting into the "daypart" game, marketing its products as not only breakfast or snack foods. This summer the company will launch "Chobani Indulgent"—a puddinglike yogurt in Dulce de Leche, Raspberry Dark Chocolate Chunk, and Banana Dark Chocolate Chunk flavors—and "Chobani Kitchen"—a sour cream replacement for baking or garnishing potatoes.
"We want to inspire consumers to eat yogurt throughout the day, and increase per capita consumption," says Peter McGuinness, Chobani's chief marketing and brand officer. Americans now eat about 14 pounds of yogurt per capita each year, less than Canadians and some Europeans, according to a release. McGuinness says the company will run a campaign to promote yogurt consumption during other mealtimes.
Chobani uses its cafe in New York City—an operation run by the company's marketing department—as an incubator for new ideas, and results there so far are promising in terms of people wanting yogurt beyond breakfast. With a menu (PDF) that includes unusual dishes (yogurt with mango and avocado) and sandwiches with yogurty cream cheese, it has found that its busiest hours are 1-3 p.m., followed by 4:30-6 p.m. The cafe's morning business, from 7:30-9:30 a.m., came in third.
Diversifying will be helpful as other major manufacturers such as Dannon and Yoplait promote their own Greek yogurt lines and consumers experiment with ways to use it in their home cooking, which Chobani has been promoting on its website. Researcher Euromonitor International explains:
"Producers of Greek yoghurt have been able to reach several consumer groups by positioning their products as high-protein, low-sugar health products which make for a convenient, nutritious and tasty breakfast or snack. The high protein content of Greek yoghurt appeals to active men who are looking to build muscle. The high protein content also appeals to weight-conscious women, as it provides satiety. Greek yoghurt's thick and creamy texture has won over consumers who do not like the runnier texture of traditional yoghurt. In addition, home cooks like using thick Greek yoghurt as a lower-fat substitute for sour cream and mayonnaise."
Euromonitor expects Chobani to be the fastest-growing yogurt brand.
Chobani's new dessert and cooking products are part of a larger brand extension that also includes a new yogurt and oats product, a seasonal line with summer flavors (watermelon, grapefruit), a reformulated kids product, and new flavors for the 100-calorie line, which will also launch this summer. The lineup shows that the company is trying hard to think outside the yogurt cup.
Before it's here, it's on the Bloomberg Terminal.
LEARN MORE