China Considers Hard Time for Eating Endangered Species
by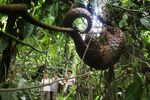 Asian black bears, pangolins, king cobras, and monitor lizards are all considered delicacies by wealthy Chinese businessmen and overindulgent party cadres. They're also quite rare, and the the cost of eating one may soon rise.
This week a group of Chinese legislators is discussing new draft regulations that could penalize those who eat rare and endangered species, the China Daily reported on April 22.
Until now, article 341 of China's revised 1997 Criminal Law has levied fines—and for "especially serious" cases, jail time of no less than 10 years—for those who catch, kill, traffic in, buy, or sell China's endangered species (merely "serious" cases get five to 10 years). It has remained unclear whether eating protected animal species constitutes purchase and is thus punishable.
"The stipulation is too vague on whether eating endangered animals is legal or not," said Li Shouwei, deputy head of the criminal law division under the Commission for Legislative Affairs of the NPC Standing Committee, in the newspaper's report.
Last month, China announced it had arrested 24 people for smuggling and selling parts of rare animals, including bear paws and pieces of pangolins. According to the public security ministry, police seized some 4,500 products with an estimated value of 10 million yuan ($1.6 million) in nine provinces.
And in June 2013, China made its biggest ever bear-paw bust, arresting two Russian nationals in Inner Mongolia. The smugglers had hidden 213 bear paws in the tires of a van they were driving across the border from Russia, the Xinhua News Agency reported.
The estimated value of the paws on the Chinese black market was about 2.8 million yuan, more than 20 times what they are worth in Russia. "Ancient beliefs dictate that the parts and organs of some wildlife have great nutritional value and can showcase one's status, " Yin Hong, deputy director of the State Forestry Administration, told Xinhua.
China has about 6,500 vertebrate species, or a 10th of the world's total, Xinhua reported. More than 400 animals have been designated as rare or endangered in China, including giant pandas, golden monkeys, and pangolins.
Before it's here, it's on the Bloomberg Terminal.
LEARN MORE