pursuits
The Humane Society's New Pitch: This Pork Producer Is a Bad Investment
By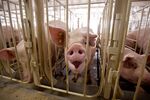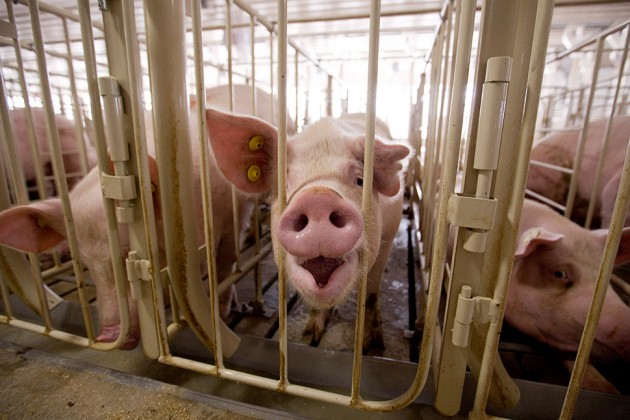 After years making ethical and moral arguments against meat industry practices, the Humane Society of the United States is trying a different tactic: It's appealing to investors. In an ad campaign launched today, the animal welfare group aims at investors in Seaboard, a $6.3 billion-a-year pork producer (it also owns Butterball) that keeps breeding pigs in "gestation crates," a practice that's been abandoned by other pork companies.
"Nine states and dozens of countries have outlawed their use," the ad states. "Due to these customer and regulatory demands, major pork producers like Smithfield, Tyson and Cargill are switching to better systems. Others, like Seaboard, seem to have no such plans. … Is your money tied up in pork companies that may be unresponsive to the changing requirements of the marketplace?"
The Humane Society isn't the first to make the argument that retrograde animal husbandry practices should be a red flag for investors. The World Bank has warned companies that failing to keep up with consumer expectations on animal welfare puts investors at risk, while proxy advisory firms, such as ISS and Glass Lewis, maintain that silence isn't a sustainable option. As ISS notes: "If gestation crates are not part of the lingua franca of most investors, long-term risk certainly is."
So far, it hasn't seemed to hurt Seaboard's bottom line. The company's stock price dipped about 1 percentage point on Monday morning, but it has posted five straight years of record sales and outperformed both the NYSE Composite Index and its peer group over that period. In its 2013 annual report, Seaboard highlighted its ability to "efficiently control pork production across the entire life cycle of the hog," including through a 20,000-hogs-a-day processing facility that's so busy it often adds weekend shifts.
Why pick on Seaboard? For one thing, it's big. Last year, by the company's own account, it ranked No. 2 in pork production and No. 4 in processing nationwide. It also refuses to engage with activists such as Matt Prescott, the Humane Society's food policy director. Prescott argues that "Seaboard is lagging not only in terms of unresponsiveness, it's unwilling to even sit down and talk about this with us." Prescott adds that company officials agreed to meet when the issue was raised publicly at Seaboard's annual shareholders' meeting last year but then ignored his calls. (David Eaheart, Seaboard's director of communications, also ignored mine.)
Seaboard's silence on the issue does seem notable in an environment where rivals are shifting to group farming and better technologies—and getting credit for their efforts among an increasingly conscientious consumer. Moreover, the market for this type of factory-farmed pork is also shrinking as fast-food chains, such as McDonald's and Subway, along with such food companies as Kraft Foods and General Mills, make their own commitments to eliminate it from their menu. Even retailers such as Costco Wholesale and Safeway have said they plan to stop selling it. For an up-to-date list of commitments, look here.
Before it's here, it's on the Bloomberg Terminal.
LEARN MORE