Schumer Pledges Fight Over Attempts to Divert Sandy Aid
Derek Wallbank and Michael C. Bender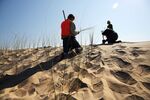 U.S. Senator Charles Schumer of New York said he'll oppose any attempts to divert money from about $3.5 billion remaining in funds from a superstorm Sandy aid law until the area has enough money to fully rebuild.
"We will fight to ensure that every one of New York's needs are met before a national competition sends a single Sandy relief dollar elsewhere," Schumer, the third-ranking Democrat in the Senate, said in a statement yesterday.
The Department of Housing and Urban Development is considering spending another $1 billion to $2 billion on areas that have suffered from other disasters, the Wall Street Journal reported yesterday, citing unidentified sources. The agency has already allocated $1.1 billion to rebuilding after other weather-related catastrophes, including tornadoes in Joplin, Missouri, and mudslides in Colorado, HUD records show.
A HUD-administered competition would reward some of the remaining money to projects that make communities more resilient against future disasters, the Journal reported, citing people familiar with the plans.
"No determinations have been made about funding or program allocations," Patrick Rodenbush, a HUD spokesman, said in an interview yesterday.
The law, passed last year, specifies that the money should be spent on relief from Sandy "and other eligible events." New York-area lawmakers say Sandy should be the first priority.
'Still Displaced'
"Rebuilding New York and New Jersey is far from complete, with many victims still displaced from their homes and businesses," Representative Peter King, a New York Republican, wrote yesterday in a letter to HUD Secretary Shaun Donovan.
HUD has spent about $10.5 billion on Sandy relief, records show. Congress initially allocated $16 billion for recovery, infrastructure, and housing following major disasters. That amount was reduced to $15.2 billion after automatic spending cuts. About $3.5 billion remains.
The language was in the second of two disaster-relief bills Congress passed after superstorm Sandy. Though the measure was passed with Sandy in mind, it was written more broadly.
The HUD funding in question must be spent by Sept. 30, 2017, and go to major disaster areas devastated "due to Hurricane Sandy and other eligible events in calendar years 2011, 2012 and 2013."
As such, the New York area is technically already in competition with disaster areas across the country.
'Ridiculous' Competition
"Any effort to make disaster victims compete against each other for financial assistance is ridiculous," Representative Eliot Engel, a New York Democrat, said in a statement yesterday. "There are still many individuals and families who sorely need these funds."
Representative Michael Grimm, a New York Republican whose district includes Staten Island and parts of Brooklyn, has been in "constant contact" with Donovan to stress his district's needs, said Nick Iacono, a spokesman for the lawmaker.
"We have unmet needs," Iacono said. "We want to make sure New York is covered and no one is operating under the assumption that New York has everything it needs."
Schumer said HUD has "complete discretion" to spend the money on Sandy relief first.
"There is no requirement in the bill that funding go to other disasters -- and we are pressuring them to keep Sandy aid the first priority," Schumer said in his statement.
Matt Wing, a spokesman for New York Governor Andrew Cuomo, didn't respond yesterday to an e-mail and phone call requesting comment.
"Of course we are concerned about it because, obviously, we want to maximize the benefit coming to New Jersey," said Michael Drewniak, a spokesman for New Jersey Governor Chris Christie. "We'll be working directly with HUD on this issue and to get it resolved hopefully in favor of this region."
Senator Robert Menendez of New Jersey, a Democrat, said in a statement that his state "has not fully recovered from superstorm Sandy and I will make certain HUD understands the need for our Sandy relief funding is very, very real and should remain the top priority."
Before it's here, it's on the Bloomberg Terminal.
LEARN MORE