Prosecutors' Long Winning Streak on Insider Trading Could Soon Be Over
By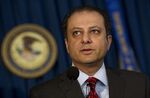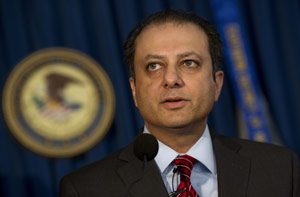 For months now, the U.S. Attorney for the Southern District of New York, Preet Bharara, has been boasting of his office's perfect record on insider trading convictions and guilty pleas, which now stands at 80-0. But on Tuesday some potential cracks could appear in that pristine run.
The U.S. Court of Appeals for the Second Circuit will hear arguments in a case that is being closely watched—and fretted over—by investigators involved in the government's historic string of insider trading prosecutions. Two convicted hedge fund portfolio managers are arguing that what the government accused them of doing isn't actually illegal, and the appeals court appears to be taking their arguments seriously. If the Second Circuit rules against the government, in the words of one attorney close to the case, it would be "nothing less than an earthquake."
Anthony Chiasson, formerly of hedge fund Level Global Investors, and Todd Newman of Diamondback Capital were convicted in December 2012 of insider trading in two technology stocks, Dell and Nvidia. Both were later sentenced by Judge Richard Sullivan to six-and-a-half and four-and-a-half year prison terms, respectively. Both men, who fought the charges through a six-week trial, appealed their convictions based on an argument that cuts to the heart of the murkiness of insider trading law.
The fact is that there is no single insider trading law; rather, the definition of illegal trading has been established by precedent set through individual cases, leaving some of the finer points less than precisely defined. It has also left room for each side to interpret things in the way that's most favorable to them.
In this instance, it could all come down to a single jury instruction: Does a trader have to know that a tip from inside a company was leaked in exchange for some sort of personal benefit in order to be found guilty? Or is simply knowing that it came from inside a company enough?
In Chiasson and Newman's case, they were the recipients of information about Dell and Nvidia that was leaked by insiders at the companies to friends of theirs, who then passed it to others—a group of hedge fund analysts the government referred to as a "criminal club" who shared their intelligence about company earnings so that they might all profit by trading on it. The government alleges, for example, that the original Dell tipper, an investor relations employee named Rob Ray, shared information about Dell's earnings with a business school classmate and friend at asset management firm Neuberger Berman in exchange for advice about how to get a job on Wall Street. The government argues that both Chiasson and Newman knew, by the time the Dell data got to them, that it came from someone on the inside who must have been violating their duty to keep it confidential, which means that trading on it was a crime.
To take the hair-splitting even further, the whole thing appears to rest on whether violating one's duty to keep something confidential by definition means that the tipper received a benefit for giving the tip. "It's a very fine point," as Richard Holwell, a former federal judge who's now in private practice at Holwell Shuster & Goldberg, puts it. "And it's kind of a murky area."
Most of the judges in the Southern District of New York, where the majority of the recent insider trading trials have taken place, told their juries that the defendants on trial had to generally know that the original tipper had disclosed the inside information in exchange for a personal benefit in order to be found guilty. The only one who didn't is Judge Sullivan, who heard the Chiasson and Newman case as well as the case of former SAC Capital Advisors portfolio manager Michael Steinberg, who was convicted in December. In both of those cases, Judge Sullivan told the jury that the trader "must have known that [the information] was originally disclosed by the insider in violation of a duty of confidentiality," without specific reference to the benefit issue. The appeals court decision has the potential to upend at least a handful of convictions in addition to Chiasson, Newman, and Steinberg, who could be given new trials or even be acquitted.
Those in the Chiasson/Newman camp have been feeling cautiously optimistic about their chances as a series of more recent cases has lent their appeal some momentum. Although not everyone agrees on the larger significance of the ultimate decision. "Even if they lose this, I don't think it's going to slow [the government] down," says Holwell. "They're clearly out to change behavior patterns of what's probably a small but significant group of people on Wall Street."
Before it's here, it's on the Bloomberg Terminal.
LEARN MORE