Obama Faces Asia Allies Uncertain of U.S. Commitment
Nicole Gaouette and Phil Mattingly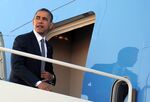 President Barack Obama's trip to Asia this week brings him face-to-face with allies who have grown uncertain about his commitment to the region.
Even with the president's pledge to continue "rebalancing" U.S. policy toward Asia, the region's leaders have been unnerved by Obama's focus on the crises in Syria and Ukraine, military budget cuts, and that the U.S. wants a new "great power relationship" with China that they worry will reduce Japan and other U.S. allies to second-class status.
"There are questions in the region, both in the media but also within governments, particularly among allies, about American staying power and the credibility of American commitments," said Michael Green, senior vice president for Asia at the Center for Strategic and International Studies, a Washington policy research organization.
Attempts to reassure allies -- and mediate tensions among them -- will compete with Obama's intended emphasis on economics, security and making progress toward the proposed Trans-Pacific Partnership free trade deal. He goes first to Japan, arriving tomorrow in Tokyo, then travels to South Korea, Malaysia and the Philippines before returning to Washington April 29.
The trip's timing couldn't be more opportune, Green said. When Obama last August deferred using military force in Syria by going to Congress for permission, it sowed doubts about his resolve. Then a chance to explain his move was lost when he canceled a planned Asia trip in October because of the partial U.S. government shutdown.
"It's hard to overstate how much the decision on Syria affected thinking, especially in treaty allies like Japan and Korea," Green said. "The options are limited on Crimea, frankly, but it becomes part of a narrative, and the dots start getting connected."
'Uneven' Results
Some members of the U.S. Congress share those concerns.
"Despite progress in some areas, implementation of the rebalance thus far has been uneven, creating the risk that the rebalance may well end up as less than the sum of its parts," Senator Robert Menendez, the New Jersey Democrat who heads the Senate Foreign Relations Committee, said in an April 17 statement accompanying the release of a report on the administration's Asia-Pacific policy.
Administration officials have defended their Asia strategy, citing signs of progress including increased economic engagement and bolstered alliances. Evan Medeiros, senior director for Asia at the president's National Security Council, said the administration is "all in, when it comes to the Asia-Pacific."
"This is a result of a calculation of our economic and our security interests," Medeiros told reporters in a briefing yesterday. "It's not a geopolitical fad, it's not political expediency."
Canceled Trip
Obama has struggled to put his Asia policy on track since being forced to cancel on two summits in the region last October to deal with the partial federal shutdown. His absence gave China a bigger opening to assert itself at the Asia-Pacific Economic Cooperation forum and the Association of Southeast Asian Nations.
Obama's visit coincides with heightened regional tension. A week before his arrival, the U.S. and South Korea finished joint military exercises that were punctuated by North Korean missile tests and live artillery fire, some of which landed in South Korean waters. Disputes over contested islands between China and the Philippines and China and Japan have escalated.
U.S. Deterrence
Against that backdrop, the timing of Obama's visit "is important because of the events in Crimea," said Victor Cha, a senior adviser at the Center for Strategic and International Studies. Obama can convey a message of deterrence, he said, easing regional worries that China or North Korea will see the failure to confront Russia aggressively as a green light for similar actions, to "pull off fait accompli actions without suffering much in terms of punishment."
Susan Rice, Obama's national security adviser, said the administration was aware that, when it came to Ukraine, "the countries of the region are watching this very carefully and are cognizant of the implication for the larger international order."
The president also is seeking to nudge along the talks on the 12-nation Trans-Pacific Partnership.
Negotiations with Japan continue to be stuck on market access in agricultural and automotive sectors, administration officials said, despite lengthy talks between negotiators from both countries in recent weeks. Malaysia also has expressed reservations about elements of the accord.
Business Interests
For business groups supportive of the deal, which would be the biggest trade accord in U.S. history, a lack of substantive progress during the trip may be a sign the deal won't be concluded before the U.S. elections in November.
Tami Overby, the U.S. Chamber of Commerce's vice president for Asia issues, said that while she didn't expect the TPP to be concluded in time for this trip, she is hopeful that Obama and Japanese Prime Minister Shinzo Abe will say they've agreed on a way to overcome some of the most contentious issues and that they're committed to completing the accord.
"The longer this drags on, the more the opponents will have the opportunity and will take full advantage of it and make it harder," Overby said. "I don't think it's going to be any easier for Japan next year than it is right now."
If completed, the accord would link a region with about $28 trillion in annual economic output, about 39 percent of the world total.
Easing Tension
Obama also will push Korea and Japan to restart their talks. Relations between the historic rivals are icy at a time when unity is needed to counterbalance China and deal with North Korean aggression.
A crucial element Obama must address, Green said, is "confusion" that grew after his administration embraced the idea of a new model of 'great power relations' proposed by Chinese President Xi Jinping. Every administration must show it wants to cooperate with China -- while supporting U.S. allies, Green said. "It's a tricky balancing act, and it's a little bit off-kilter right now," he said.
Japanese leaders are concerned that China will drive a wedge between the U.S. and Japan, its most important military ally in the region, and convince the U.S. that its paramount interests now lie with China, said Yukio Okamoto, a former diplomat and adviser to two Japanese prime minister.
"China has been emboldened," and there is deep concern that the alliance "has lost a certain amount of warmth," Okamoto said in a meeting with Bloomberg reporters and editors. "We are in a precarious situation now."
Airspace Dispute
Okamoto cited Japan's experience when Beijing insisted that airlines identify themselves to China when flying through certain areas of international airspace. While the U.S. told airlines to comply and file flight plans, Japan did not, "the first time the United States exposed Japan in such an awkward situation," Okamoto said.
Another concern, Okamoto said, is that while Tokyo's ties with the Pentagon are strong, Japanese policy makers think there no longer are strong, Asia-focused leaders at the White House and State Department.
It's a feeling that's not limited to Japan, Green said. "A narrative has built after Syria, when the United States drew a red line and then ignored it; Crimea; the defense budget cuts, particularly in Japan, but elsewhere in the region" that the U.S. no longer is focused on Asia and lacks a "go-to guy" for the region, said Green.
Before it's here, it's on the Bloomberg Terminal.
LEARN MORE