Nike's Fuelband Hits the Wall
The market for fitness trackers is jampacked
by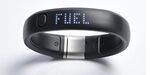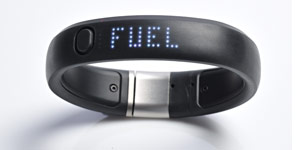 Sometimes it seems as if every weekend athlete and slug in sneakers is wearing a device around his wrist that records his every shuffle. But analysts and others who stay safely behind their desks have long warned that many of these wearable computers aren't long for this world. What few predicted was that Nike would be an early casualty of the crowded market. CNET reported on April 18 that Nike had laid off most of the engineers working on its FuelBand, which tracks daily steps and energy burned, and planned to stop making wearable computing hardware. In a statement, Nike acknowledged "a small number of layoffs." Although the company said the FuelBand remains an important part of its business and that it will support its second-generation, $149 FuelBand SE for the foreseeable future, spokesman KeJuan Wilkins wouldn't say whether new versions of the wristband are coming. Nike had previously promised a third, slimmer version would be available as early as this fall.
J.P. Gownder, an analyst at market researcher Forrester, says if the FuelBand does disappear, it will say more about Nike than about the world of wearable computing. Gownder says 80 percent to 90 percent of the wearable devices currently on the market will vanish in the next few years and that Nike's effort was lackluster. Competing devices from Jawbone and Fitbit offer more features, and FuelBand's design has been criticized by some reviewers as too bulky. As it fell behind Jawbone and Fitbit in the market, the sneaker company may have decided it just wasn't worth investing more in what amounted to a side project—70 staffers were devoted to the hardware out of 40,000 employees worldwide.
"This was always going to be a market that was going to take a lot of patience to build up the kind of numbers that a Nike executive would value," Gownder says. "From what I'm hearing, organizationally, it was a bit of a stretch to get into this space without a big acquisition."
Nike has consistently said its fitness-tracking products are as focused on software as on gadgetry. In an e-mail, Wilkins said the company is aggressively developing running-tracker app Nike+ and the related system NikeFuel, which awards points based on activity monitored by Nike+ or another app. "Nike is committed to Nike+, to NikeFuel, and to driving innovations that bring richer experiences for all athletes," he wrote. "We will continue to leverage partnerships to expand our ecosystem of digital products and services, using NikeFuel as the universal currency for measuring, motivating, and improving."

Nike will be counting on other companies to push its software. In 2013 it ran a program that gave 10 startups $20,000 and three months in its Portland (Ore.) facilities to develop applications built on NikeFuel. In early April the company said it was opening a similar lab in San Francisco for Nike+. None of the startups involved in these programs are likely to build Nike's next device, though. Smartphones seem to be an obvious way to track NikeFuel points; about 46 million Americans used a fitness or health smartphone app in January, according to an April 10 Nielsen report on mobile software usage, and Nike already has several iPhone fitness apps.
It's the FuelBand hardware, though, that seemed to exploit Nike's primary advantage in the world of wearable computing: its understanding of what people like to wear. NikeFuel is a clever way to keep people using Nike's gadgets, but it's hard to see a bright future for software that measures physical activity if it isn't linked to a popular device dedicated to monitoring it. For the most part, "consumers don't understand why they need wearable tech devices," says James Russo, a senior vice president at Nielsen. That goes for people who have bought the devices, too; in Nielsen's survey, only 28 percent of fitness band users said their purchases were worth the price.
If Nike can't persuade them, maybe Apple can. Many people expect Apple, whose FuelBand-sporting chief executive officer sits on Nike's board, to release its own digital wristband at some point. Nike and Apple have been collaborating on fitness tech for a while; Apple added sensors to its latest phones that work with Nike's activity-tracking rewards system. An eventual collision in their interests seemed likely as long as Nike was making its own hardware. Maybe a collaboration is coming instead.
Before it's here, it's on the Bloomberg Terminal.
LEARN MORE