Netflix Dips a Toe Into Higher Prices, Starting With New Subscribers
By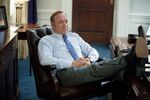 House of Cards' arrival brought Netflix critical acclaim from Hollywood and new customers. Now Kevin Spacey's political drama is giving the video-streaming service a chance to raise its prices.
The company made clear its plans for higher prices on new subscribers Monday without specifying the amount of the increase or when it would take effect. We had some warning that this was coming. In January, when Netflix raised the price of its streaming service only in Ireland—tacking on one euro for a total of €7.99 ($11)—it seemed like a test to gauge the backlash among Irish subscribers. The negative reaction was minimal enough to bring a likely increase of $1 or $2 for new Netflix streaming customers elsewhere.
Existing customers will retain their current price "for a generous time period," Netflix said today, bolding that part of its statement as if to emphasize that the memory of its 2011 meltdown over a unilateral price hike remains fresh in executives' minds. The higher prices "will enable us to acquire more content and deliver an even better streaming experience," Netflix said in its quarterly letter (pdf) to shareholders. The increase for customers in America, Netflix's largest market, wasn't specified, nor was the length of the "generous time period" during which the current subscribers can keep their current prices. (In Ireland, the grace period lasted two years.)
Reed Hastings, Netflix chief executive, said the increase was due to Netflix's programming costs. "If we want to continue to expand to do more great programming," he said on the earnings call, "we have to eventually increase prices a little bit. We're not doing much."
Netflix had 48.6 million subscribers in the recent quarter and predicted a gain of nearly 1.5 million in the current quarter, a projection restrained somewhat by "slight headwinds" expected during the World Cup soccer tournament in June. The company has added more than 8 million new streaming subscribers in the past two quarters. "We are approaching 50 million global members, but that is far short of HBO's 130 million. We are eager to close the gap," Hastings and David Wells, the company's chief financial officer, wrote. The company's subscriber totals include 6.7 million who receive DVDs via mail.
Netflix earned 86¢ per share, or $53 million, above the mean estimate of 81¢ by 31 analysts polled by Bloomberg. Sales of $1.27 billion also slightly topped forecasts. Company shares rose 7 percent in after-hours trading, but Netflix stock is still down more than 5 percent this year. Its second major original series, Orange is the New Black, begins a second season on June 6.
Before it's here, it's on the Bloomberg Terminal.
LEARN MORE