Insider Convictions Seen Too Easy in Chiasson Appeal
Patricia Hurtado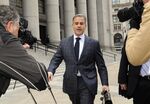 What looks like insider trading to one federal judge might not rise to the level of a crime to another. Or, in the case of two hedge fund managers fighting their convictions, to another three judges.
Level Global Investors LP co-founder Anthony Chiasson and ex-Diamondback Capital Management LLC portfolio manager Todd Newman claim they were wrongfully convicted because jurors at their trial were told they only had to find that the defendants knew tips they traded on weren't public.
Today, the two men will make their case to the U.S. Court of Appeals in New York. If the panel of three judges agrees with them, it may make insider-trading prosecutions more difficult, while also calling into question one of the biggest victories won in the U.S. government's seven-year crackdown on Wall Street.
Prosecutors have argued that all they need to prove is that traders were aware information they used wasn't public and breached a fiduciary duty, as they did in winning the conviction of SAC Capital Advisors LP fund manager Michael Steinberg. U.S. District Judge Richard Sullivan took the same position in that case as in the trial of Chiasson and Newman.
Additional Elements
But lawyers for the two men said at least three judges have required an additional element: that the traders also know the original source of the inside information received a benefit for the tip.
Jurors were required to find all three elements by U.S. District Judge Jed Rakoff, in the case of Whitman Capital LLC hedge fund founder Doug Whitman; former U.S. District Judge Richard Holwell, in the case of Galleon Group LLC co-founder Raj Rajaratnam and U.S. District Judge Paul Gardephe, in the trial of SAC Capital portfolio manager Mathew Martoma.
"The government's zeal to combat insider trading went too far in this case," Marc Pomerantz and Greg Morvillo, lawyers for Chiasson, said in a memo to the court. "He was a remote tippee, removed from the insiders by four degrees of separation."
A ruling by the federal appeals court in favor of Chiasson and Newman may imperil the Steinberg conviction, which along with the conviction of Martoma was among the biggest victories for Manhattan U.S. Attorney Preet Bharara in his prosecutions of Wall Street wrongdoing, and at SAC Capital in particular.
New Trials
New trials could be ordered for Chiasson and Newman. However, even with the extra element required by the other judges in the cases of Rajaratnam, Whitman and Martoma, all were found guilty.
At trial, the prosecutors said Chiasson and Newman were part of a group of portfolio managers, fund analysts and company insiders who shared material nonpublic information about Dell Inc. and Nvidia Corp. and traded on them as part of a sprawling $72 million insider-trading scheme.
Six men pleaded guilty and agreed to cooperate with the U.S., including Chiasson's and Newman's analysts, who both testified they funneled the illicit tips to their bosses. Chiasson, of Manhattan, was sentenced to 6 1/2 years in prison, while Newman, of Needham, Massachusetts, got a 4 1/2-year term.
"According to the government's evidence, Chiasson knew only that his research analyst had sources of material nonpublic information coming from 'insiders' and he traded on that information," the defense lawyers said in their filing. "That is not a crime."
Appeal Panel
The three-judge panel that will hear the appeal includes U.S. Circuit Judges Barrington Parker, Ralph Winter and Peter Hall. Parker was on a panel that last June agreed to allow Chiasson and Newman to remain free while they challenged their convictions, ruling that their cases pose a significant question of law.
The National Association of Criminal Defense Lawyers argued in a friend-of-the-court filing, that if Chiasson and Newman's convictions stand, it could lead to a broadening of insider trading law and a blurring of the lines between legally permitted sharing of information with the illegal use of material, nonpublic information.
Parker questioned Assistant U.S. Attorney Antonia Apps during a hearing last year on the difference of opinion between Rakoff and Sullivan on the government's burden of proof in insider trading cases.
"This sounds to me like this is going to be a very lively appeal," Parker said. "You have Judge Sullivan and Judge Rakoff, who are arguably the best in the business who see this differently."
Sullivan, Rakoff and Gardephe all sit in federal court in Manhattan, as did Holwell before he left the bench.
The appeals case is U.S. v. Newman and Chiasson, 13-1917, U.S. Court of Appeals for the Second Circuit (Manhattan). The lower court case is U.S. v. Newman, 1:12-cr-00121, U.S. District Court, Southern District of New York (Manhattan).
Before it's here, it's on the Bloomberg Terminal.
LEARN MORE