Hasbro Flogs Little Plastic Ponies and Rides Past Mattel
by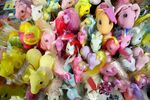 After three decades, American children may be approaching peak plastic pony.
Just days after Mattel announced some fairly ugly Barbie results, Hasbro blew by Wall Street expectations this morning on strong demand for its My Little Pony dolls. Hasbro has been cranking out glitter-dusted horses for three decades, but like so many products from the 1980s the toys are enjoying a bit of a renaissance (thanks, in part, to grown men who identify themselves as "Bronies").
Hasbro saw the Little Pony comeback on the horizon and ramped up supply. In the second quarter of last year, it launched a second line called Equestria Girls—imagine creepy, purple kids with hoof-like boots and tails. All told, Hasbro's sales of girls' toys surged 21 percent in the period, helping the company swing to a $32 million gain in the recent quarter, from a $6.7 million loss in the year-earlier period. Revenue from boys' toys increased only 2 percent, however, while sales in the preschool and games categories slipped 4 percent.
Hasbro is bullish on boys for the near future. It has an army of plastic action-figures riding on a trio of this year's blockbusters: the Captain America sequel, which is in theaters now, The Amazing Spiderman 2, which makes its debut May 2, and the next Transformers iteration set for release in late June.
Of course, a My Little Pony movie sequel is on the calendar for later this year, as well. Bronies, get excited.
Before it's here, it's on the Bloomberg Terminal.
LEARN MORE