Exelon Beating Facebook in S&P 500 After Valuation Scare
Joseph Ciolli and Callie Bost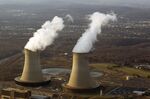 In the middle of earnings season, investors are becoming less concerned about earnings growth.
The best gains in the stock market this month are being generated by the likes of Exelon Corp., an atomic power producer whose profits are shrinking. At the same time, companies that are boosting income such as Facebook Inc. and Netflix Inc. are in retreat. Shares favored by value investors for their low price-earnings ratios are beating those with higher valuations by the most since 2009, according to data compiled by Bloomberg.
Shareholders burned by the worst equity selloff in two years have taken shelter in utilities, food companies and liquor makers amid concern the five-year bull market has gone on too long. With share prices in the Nasdaq Composite Index exceeding 30 times annual profits, they're foregoing stocks that led the last leg of the bull market and buying those whose prices have held up in past retreats.
"Valuations have moved into an excessive zone, and this is a correction of that," Bruce Bittles, chief investment strategist at Milwaukee-based RW Baird & Co., which oversees $110 billion, said in an April 17 phone interview. "Expectations are coming down, and investors are questioning why they should pay up for high growth. We're moving back in line with what reality is."
Stock Performance
Investor preferences have shifted since the Nasdaq Composite began a 6 percent slide on March 5. Where health-care, commodity and technology shares led the market in first two months of the year, gains since then have been confined to power companies, household products suppliers and telecommunication firms, according to data compiled by Bloomberg.
Last year, the 10 stocks that rallied most in the Standard & Poor's 500 Index had a median earnings increase of 60 percent, eight times the rest of the market. Since the Nasdaq peaked, median 2014 expected profit growth for the best performers in the S&P gauge has slipped to 4 percent.
The Nasdaq Composite rallied 2.4 percent last week to 4,095.52, the biggest advance since February. The S&P 500 climbed 2.7 percent to 1,864.85, erasing the previous week's 2.7 percent decline.
The S&P 500 and Nasdaq 100 Indexes were little changed at 10:49 a.m. in New York today.
With more than 230 companies in the S&P 500 scheduled to report results by the end of April, investors are embracing dividends and buying companies whose products are least tied to economic expansion. RW Baird has sold technology stocks and added energy shares, according to Bittles.
Falling Profits
Edison International has surged 22 percent this year, pacing an 11 percent increase in utilities that has made it the S&P 500's best-performing industry. The Rosemead, California-based energy producer has reported falling profits in two of the last three years and earnings will probably drop this year too, according to estimates compiled by Bloomberg.
Edison has distributed a quarterly cash dividend in every quarter for the past decade, and increased its payout for the fourth quarter of 2013 to 35.5 cents a share from 33.75 cents.
"Investors have been starving for income," Jeff Sica, president of Sica Wealth Management LLC, which oversees more than $1 billion, said by phone April 16. "A lot of value stocks have increased their dividends to attract investors."
Sica has been buying shares of energy companies and keeping more money in cash, he said.
Correction Risk
Utilities will boost profits by 2.4 percent this year, the second-slowest pace among 10 industries in the S&P 500, trailing only bank stocks, data compiled by Bloomberg show. That compares with 6.8 percent for the full index. The industry has rallied for four weeks, the longest stretch since last April. Not since 2011 has U.S. stock market finished the year with power generators as the top industry.
The S&P 500 has fallen 1.4 percent since reaching a record high on April 2. The benchmark gauge turned in its worst week since 2012 for the five days ended April 11 as the stocks most beloved by hedge funds plunged amid concerns of overstretched valuations.
"The risk of some sort of correction is increasing," James W. Gaul, a portfolio manager at Boston Advisors LLC, which oversees about $2.7 billion from Boston, said in an April 16 phone interview. "We've seen sector-level rotation into some of the more defensive areas."
Chicago-based Exelon has led all utility stocks since the start of January with a 32 percent surge, while Edison International climbed 22 percent and Ameren Corp., the St. Louis-based utility holding company, advanced 13 percent. Twenty-nine out of the 30 utilities companies in the S&P 500 have risen by an average of 11 percent over the same period.
Tech Selloff
The gains have occurred amid a selloff in technology makers as investors dumped bull-market winners. Menlo Park, California-based Facebook, owner of the world's biggest social network, and Netflix in Los Gatos, California, the largest online video-subscription service, have plummeted more than 14 percent over the past month. Those declines occurred even as profits for the companies are forecast to increase more than 40 percent this year.
The Russell 1000 Value Index, made up of the companies in the Russell 1000 Index that have the lowest price-to-book ratios and forecast earnings growth, had risen 0.1 percent over the 30 days ended April 15. That compared with a 4.2 percent drop in the Russell 1000 Growth Index. That was the biggest gap since September 2009, according to data compiled by Bloomberg. The value measure gained 1 percent on a trailing 30-day basis on April 17, while its growth counterpart fell 2.9 percent.
Momentum Plays
"The momentum plays are not coming back easily," Ian Nakamoto, director of research at MacDougall, MacDougall & MacTier Inc. in Toronto, said in an April 15 phone interview. The firm manages about C$4.7 billion ($4.3 billion). "It's the lower P/E stuff that will do well here."
The recent retreat in technology isn't the first time investors have faced falling markets. In the past year, the Nasdaq 100 Index declined 5.2 percent between Jan. 22 and Feb. 3, slipped 3.4 percent from Oct. 2 to Oct. 9, and dropped 6 percent from May 17 through June 24. Each time, the index was above its previous high within a month of reaching the bottom.
Many value stocks fail to provide a margin of safety in today's market, according to Hayes Miller of Baring Asset Management Inc. The difference between the price-to-earnings ratios for the Russell Value and Growth indexes is smaller than it has been since the end of third quarter 2013.
Not Justified
Not all inexpensive stocks "actually represent a true value proposition," Miller, who helps oversee about $57 billion as the Boston-based head of multi-asset allocation in North America at Baring, said in an April 16 phone interview. Higher dividends and lower price-to-book ratios don't "necessarily mean their P/Es are justifiable given the fact that there's no expected earnings growth in many of those sectors."
Among mutual funds, active managers are overweight Internet software and services, Internet and catalog retail and biotechnology -- all of which are considered high-growth areas, according to first-quarter data compiled by Bank of America Corp.
BlackRock Inc.'s iShares Russell 1000 Value exchange-traded fund, which holds stocks listed in the sub-index, has absorbed $414 million this month, poised for the biggest monthly inflows since December 2012. Shares in the fund closed at an all-time high on April 3. That same day, the Nasdaq Composite slid 0.9 percent.
"Growth names got a little stretched," Alan Gayle, who helps oversee about $50 billion as a senior strategist at RidgeWorth Capital Management, said in a telephone interview from Atlanta on April 17. "We felt they were vulnerable after a strong run. Value is just catching up."
Before it's here, it's on the Bloomberg Terminal.
LEARN MORE