Tommy Hilfger Q&A: The Rise and Fall and Rise of a Man and His Brand
By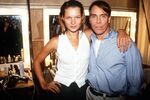 Twenty years ago, Tommy Hilfiger's clothes were everywhere. They were clinging to Britney Spears, hanging off Snoop Dogg, draped on Kate Moss—sometimes it seemed as though everyone was wearing the red, white, and blue label. And then suddenly they weren't. By 2000, Tommy Hilfiger's stock had plunged; one particularly bad quarter saw a drop of 75 percent.
It took 10 years and the sale of the company, but Hilfiger eventually revamped his image. The brand's revenue was up 14 percent in the U.S. last year, and Hilfiger recently launched a new womenswear line with Zooey Deschanel. Bloomberg Businesssweek talked to Hilfiger about his rise, his fall, and how he picked himself back up again.
Tell me what your childhood was like.
 
I'm from Elmira, N.Y., which was like growing up in Small Town, USA. Everyone knew their neighbors. My mother was a nurse, my father was a watchmaker at a local jewelry store in town. I'm from a family of nine children. I'm the second oldest—well, the first-oldest boy—so I sort of took responsibility at a young age to guide my brothers and sisters. I started working when I was very young. At 11, I was delivering newspapers and earning money. I also really loved, loved sports. I wanted to be a football or basketball player but I was never big enough.
So instead, I started listening to music. Of course, this was 50 years ago when the Beatles had just come to America and had started this period of real change in style and fashion. I grew my hair long and wore bellbottoms. I wanted to look cool like the rock stars but my schoolmates wanted to look like me. They'd ask me, where did you get your clothes, how do we get bellbottom jeans?
Is that how you got into fashion?
 
Exactly. So I decided to open my own store. I was working nights in a Hess gas station earning $1.25 an hour. I saved up $150. A few other schoolmates and I put our money together and bought 20 pairs of jeans and opened a store in the basement of an existing store in Elmira's downtown shopping area. We called it People's Place. It was very successful right away. We opened a few more stores on college campuses in upstate New York. There was one near Cornell's campus in Ithaca, that sort of thing.
But at this point you're just selling other people's clothes. When did you shift to designing stuff yourself?
 
Well, from very early on, I wanted to design my own clothes. I didn't take any classes or anything, I just figured out how to do it. I bought fabric, I sketched out designs, and I gave the fabric to local seamstresses who'd make them for me. I started with jeanswear—mostly vests and jackets. They became really popular in my stores. But I was expanding my stores way too quickly. In the end, I overexpanded and I went chapter 11 when I was 23. I like to joke that that was my master's degree.
That must have been hard.
 
It was. But as a result of that, I decided to teach myself the business end of the fashion business. I got very serious about that. Eventually I wanted to become a brand myself. I sold my share of the business and moved to New York in 1979. I did freelance design work for other brands, which eventually led me to meeting Mohan Murjani, who owned Gloria Vanderbilt jeans. He had factories and stuff so he backed me. Together we launched Tommy Hilfiger in 1985. It became very successful almost right away.
What was your initial idea for Tommy Hilfiger?
 
We were the edge of the casual wear revolution. I'd grown up with the preppy look but preppy was boring. I wanted bright colors and buttons and to rethink preppy.
How did the casual wear revolution happen?
 
In the early 1980s, people were still wearing suits to work. Then all of a sudden Silicon Valley execs started going to work without ties and jackets. Chinos and button-downs became popular with that crowd. Then across America they started having casual Fridays, and then after that they dressed down for work every day. I came on at the beginning of that revolution and really benefited from it.
At the same time, all my sportier jeanswear became big on the streets. That whole red, white, and blue phenomenon with big logos and colorful sportswear took hold. If you take the sort of preppy-casual with all of that street sportswear, that's really what made Tommy, well, Tommy.
You had this incredibly bold ad in Times Square right when you first started. It likened you to Ralph Lauren, Perry Ellis, and Calvin Klein. But people had never heard of you.
 
That was a genius ad by the advertising legend George Lois. When he created the campaign, I was shocked. I thought, "I can't say that!" But he convinced me that it would really introduce me to the world. If I'd done traditional advertising, it would've taken years for me to be known. This way we launched the campaign and within minutes it felt like the Tommy Hilfiger name was famous.
But it means you got really, really famous almost overnight. What was that like?
 
It was frightening, it was exciting, it was motivating, and it was nonstop. It sort of felt like waking up out of a dream and thinking, "Wow, is this really happening?" I knew it was time to put tremendous focus on making the clothes saleable. I had to really dot every I and cross every T in terms of the clothes themselves. Otherwise I'd be a laughingstock.
How did you come up with your logo?
 
I love yachts, sailing, and boating, so I wanted to use a nautical flag. I'm also quite patriotic. I wanted it to be red, white, and blue with a T and H together. I saw Nike take their name off the swoosh in the 1980s. I thought, one day I want to take my name off the flag and hopefully people will recognize it. I think people recognize the brand through the flag. That has resonated over time as our best asset. The flag is the backbone of my business.
In 1992 you took the company public. You were the first designer to do that. Why?
 
In 1989, I took on new partners. One was Silas Chou, who was one of our big manufacturers in China. The other was a Canadian, Lawrence Stroll. And another one was Joel Horowitz, who'd been at Gloria Vanderbilt in early days. We banded together to create a global lifestyle brand. Then we took it public. Silas and Lawrence today are founders and owners of Michael Kors, which is undoubtedly one of the most successful fashion brands in the world. They were opening a new door, building the company into a very powerful, professional, global business. In the 1990s we grew from a $100 million company to a $1 billion company by expanding globally.
Fashion is a funny industry. How do you balance the art with the commerce?
 
We're going for affordable, wearable, stylish fashion but "wearable" is the key word. If you're wearable, that means you're saleable and that turns into profit. A lot of people don't understand that. They think that if they make beautiful clothing, people will buy it at any price. That's not always true. Plus, if you're of-the-moment, you could go out of style very quickly. But if you're not stylish enough, then you won't make the grade. There's an art to making sure your product is not too advanced, but not too behind either.
Let's talk a little about Tommy's struggles over the years. You started losing a lot of money and ended up taking it private and stepping down as chairman.
 
Being a public company, we didn't want to disappoint our shareholders. So we kept driving the volume. Unfortunately, there's a pushback that happens if you oversupply the demand. That happened in the United States. It certainly was, I would say, another learning experience.
There was a bit of controversy at the time because the classic preppy base abandoned the Tommy brand when it was adopted by the hip-hop community. And when hip-hop moved on to a new trend, you were left hanging.
 
Look, it fueled a lot of growth, but it took us away from our roots. We came back to our roots 10 years ago; that's when our business started to really stabilize and grow again. When people ask me advice, I say stick to who you are. Stick to your guns. There is an image and attitude to most brands and that's really important. I like to stick to my heritage and not chase trends and at that point we were chasing trends. Chasing trends was easy but it was dangerous. It's more important to me now to be consistent.
Why did you sell to Apax Partners in 2006?
 
We did that so we could take the company private. Under [our CEO] Fred Gehring's skilled leadership, we brought the brand back to what it should be. We grew and changed dramatically and stabilized in a very strong way. And then we sold it to Phillips-Van Heusen Corp. in 2010. I mean, it's not that we sold it and walked away. We have a lifetime contract with the company where Fred is a chairman, or maybe a vice chairman of it now. I'm principal designer. We continue to grow the business.
Has going through financial problems with the company changed the way you approach life?
 
It makes me incredibly grateful for everything that has happened. I've really been very lucky. It's very easy to let success go to your head and think you're invincible, because you never know what could happen at any moment. I'm fully aware of the fact that the level of success I've achieved just doesn't happen every day.
What do you want to do in the future?
 
I'd like to do a hotel. I don't have any plans for one, it's just a dream of mine. Other than that, I collect art, I spend time with my family, I have a bunch of children. I have my company. I love what I do even if it's always challenging.
Before it's here, it's on the Bloomberg Terminal.
LEARN MORE