Harvard University Thwarts Freshman Entrepreneurs
by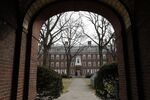 Fights over rules and regulations can earn entrepreneurs a certain cachet in startup circles. Harvard freshmen Akshar Bonu and Fanele Mashwama may have won their honor badges early.
The undergrads launched a company called InstaNomz in March to cater to classmates who wanted late-night meals without leaving the glowing hearth of their computer screens. For fees ranging from $1 to $10, the service delivered food from a handful of Cambridge restaurants directly to the students' dorm rooms. The GrubHub-like startup operated between 10 p.m. and 1 a.m.
But no longer. InstaNomz has stopped making deliveries, according to a message from Bonu and Mashwama on the company's Facebook page: "It is with great sadness that we must tell you InstaNomz is closing down indefinitely. After launching, we ran into issues with the administration that we could not resolve."
Those issues, according to the Harvard Crimson, were the university's demand that InstaNomz either operate like other outside delivery services, which stop short of entering dormitories, or strike a deal with student-run nonprofit Harvard Student Agencies, which markets a range of services to students.
The school reserves the right "to restrict or control student business use of its resources, facilities, academic product, copyrighted materials, and institutional data," according to the student handbook. Harvard spokesman Colin Manning declined to comment.
Shuttering one small startup isn't a big deal in the scheme of things, but university administrators may want to take note. More than 400,000 college students take classes on entrepreneurship each year, according to research (PDF) from the Kauffman Foundation. Critics say too many of those courses are built around lectures—"clapping for credit"—instead of building more practical experience.
If colleges are going to encourage students to get their hands dirty building real-life companies, they should be prepared for some budding entrepreneurs to bump up against campus rules. Then again, battling with regulators may be an important part of the learning experience.
Bonu and Mashwama seem to be handling the situation with aplomb. Rather than accept Harvard's terms, they've dug in their heels in a manner that suggests savvy resource rationing, clever negotiating, or both. "We do not believe that operating as an outside vendor will be feasible because it will incur greater time costs," they write on their Facebook page. "But we have not discarded the idea entirely."
The two might also be learning a lesson about cyclical business. InstaNomz finds itself closed for business at the worst time for a college-based midnight-delivery operation: Final exams, and the all-nighters they inspire, are just a few weeks away.
Before it's here, it's on the Bloomberg Terminal.
LEARN MORE