Subaru Awaits Toyota Indiana Decision as It Lifts Output
Alan Ohnsman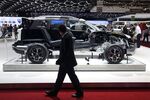 Fuji Heavy Industries Ltd.'s Subaru, which added more U.S. market share than any international carmaker last year, is pushing ahead with U.S. expansion plans as it awaits a Toyota Motor Corp. decision on whether to keep using its Indiana plant to build Camrys.
Capacity to build Subaru vehicles at Tokyo-based Fuji's sole U.S. plant in Lafayette, Indiana, is on track to reach 300,000 units annually by 2016, Chief Executive Officer Yasuyuki Yoshinaga, said in an interview yesterday at the New York International Auto Show. The fate of the plant's second line, which builds 100,000 Camrys a year under contract for Toyota, isn't yet clear, he said.
"Whether or not Camry is produced in Indiana, that's Toyota's decision," Yoshinaga said. "An official decision has not been made by Toyota, so we're just waiting."
The production issue is a curious wrinkle in the relationship between a small yet fast-growing Japanese automaker and the world's largest and its top-selling U.S. model. Should Toyota's production tie-up with Fuji end in 2015, after an eight-year run, the Toyota City, Japan-based automaker must have in place a new production plan to keep its North American Camry production volume near the almost 446,000-unit level built last year.
U.S. demand for all-wheel-drive Subaru brand Forester crossovers and Crosstrek wagons boosted its sales 26 percent last year and a further 21 percent in the 2014's first quarter. To keep growing in the U.S. Subaru, with less than 1 million units of worldwide production capacity, last year said it would spend $400 million to increase capacity at its Indiana plant.
Georgetown Plant
Discussions over keeping Camry production at the Subaru plant are continuing, Jim Lentz, Toyota's North American chief executive, said in an interview this month. Toyota's Georgetown, Kentucky, plant, its biggest in North America, is the main Camry producer, building about 350,000 last year.
"It hasn't been finalized that it's going or timing if it does happen. Those are still under discussion," Lentz said in Santa Barbara, California, this month. "They've got to come to a final agreement here fairly soon."
Toyota is Fuji Heavy's biggest shareholder, with a 16.6 percent stake. Subaru showed a revamped Outback wagon at the New York show this week. Production of the new version begins in June in Lafayette, Tom Doll, Subaru's U.S. sales chief, said at the unveiling.
The new Outback arrives as Subaru targets a record 460,000 U.S. sales, Yoshinaga said yesterday.
Before it's here, it's on the Bloomberg Terminal.
LEARN MORE