PepsiCo's Snack Business Is Coming In Handy
By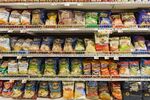 PepsiCo and Coca-Cola may often be compared for their beverages, though PepsiCo now earns 52 percent of its revenue from food, via brands such as Frito-Lay and Quaker. Its snack sales are growing faster than those of its beverages, which have lagged as consumers look for healthy alternatives to soda. In the first quarter, PepsiCo's volume sales of beverages were about even, while snack sales increased 2 percent, the company reported (PDF) Thursday morning.
This is coming in handy for PepsiCo, because Coca-Cola's beverage sales are growing faster than those of PepsiCo's drinks. Coca-Cola already holds about 48.2 percent of the global market for carbonated drinks, compared with Pepsi's 20.3 percent, according to data compiled by Bloomberg. Yet PepsiCo leads in another industry—brands like Lay's, Doritos, and Cheetos have made it the world's top sweet and savory snack producer.

The strength of PepsiCo's snack business helped to keep revenue even in the first quarter, while Coca-Cola—which only makes beverages—reported earlier this week a 4 percent decline in revenue. As Pepsi explained in its annual report, "having both foods and beverages allows us to launch and broadly distribute new, convergent food and beverage products—for example, foods through chilled beverage distribution, beverages through ambient food distribution, and convergent products that 'snackify' beverages."


And as Bloomberg News notes, the fact that Pepsi's drinks sales have stabilized should, for now, help fend off requests to split the two divisions.
Before it's here, it's on the Bloomberg Terminal.
LEARN MORE