Mazda Miata at 25: A Long Road to Keep Selling a Few Little Cars
by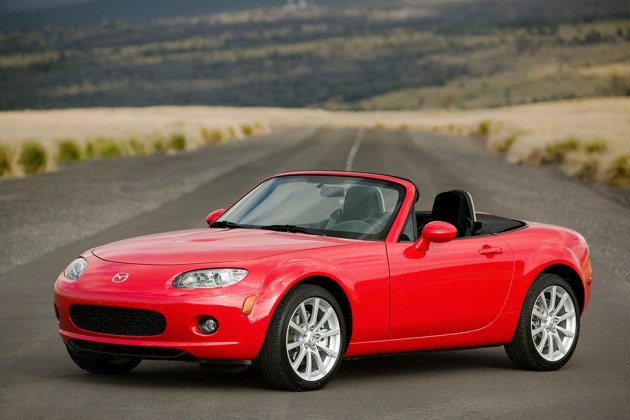 In a cavernous room crammed with scads of 600-horsepower, carbon-veined driving machines, a diminutive 25-year-old car got as much buzz as anything else at the New York International Auto Show.
Granted, the Mazda Miata unveiled this week is an all-new version for the model's quarter-century milestone, but it doesn't look much different from the 1989 original on display a few car-lengths away.
Mazda probably won't sell many of these little things. Last year, it only moved 5,800 Miatas in North America, just 2 percent of its vehicles in total. But it is the one car, more than any other, that people associate with the company, and Mazda North American Chief Executive Jim O'Sullivan sees a lot of value in that. "We're an enthusiast brand," he says. "So there's a little bit more emotion to us."
It's tough for a car company to stand out these days without spending millions of dollars on a Super Bowl ad or rolling out a concept car that looks like a spaceship. As buying speeds up, car companies are jamming a crowd of new models onto the market. The machinery built to steer potential buyers quickly sorts those offerings into just a few categories—compact, midsize, entry-level luxury, crossover, etc. The problem is these designations are somewhat arbitrary based on price, features, and— more than anything else—the badge on the hood.
Mazda is trying to break out of those lanes. It even has its own definition for its vehicles: "Alternative to premium" is the somewhat clunky moniker that O'Sullivan casually slips into conversation. The goal is to make potential buyers see something a bit different, rather than see an alternative to the midsize sedan of the season or the hottest new crossover.
The trick is, in large part, one of pricing. Take the window stickers on the highly praised Mazda3. It's a compact car sold for far more than competing models such as the Honda Civic and the Ford Focus. Last month, the typical Mazda3 in the U.S. was priced at almost $25,000, and O'Sullivan gushed that a lot of the well-appointed versions are commanding $30,000.
Not only does that make for a nice profit margin—albeit one that sacrifices some volume—but the relatively high price has helped hold up resale values. ALG, the research and consulting arm of TrueCar, recently gave the Mazda3 its 2014 "residual value award." That's one of the reasons O'Sullivan hates to "put cash on the hood" in the form of incentives. "We think it destroys the brand over the long term," he says.
Mazda is also committed to stick shifts, an anachronism in the age of continuously variable transmissions and ultra-smooth automatics. Here's how Mazda design director Derek Jenkins describes the strategy: An old-fashioned manual transmission appeals to people who really love driving, people who really love driving tend to talk about their cars a lot.
"By targeting that type of consumer, that's going to be the change agent for Mazda going forward," Jenkins says. "They're going to spread the word to people who may not be aware of what Mazda is doing, which, quite frankly, is our greatest task."
Of course, an automatic transmission would likely move more cars, but Mazda has never been too focused on volume. Last year, Toyota sold eight vehicles for every Mazda that rolled off the lots.
So how did Mazda capitalize on the biggest milestone of its most famous model? It made a batch of special anniversary edition Miatas—100 to be exact. Do you think the people who buy those cars will spread the word?
Before it's here, it's on the Bloomberg Terminal.
LEARN MORE