The Island in South Korea's Ferry Tragedy Wants Chinese Tourists
by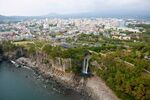 China's holiday getaway spot is Hainan, a tropical island in the Gulf of Tonkin not far from Vietnam, while Japanese seeking a beach far from Tokyo head to Okinawa. For South Korean vacationers, the southern island luring people from the mainland is Jeju. The Korean Hawaii attracted 8.5 million domestic tourists in 2013, a 6.3 percent increase from the previous year.
Jeju is now famous for another reason, following the ferry tragedy that left hundreds of passengers lost at sea. The Sewol, a ship carrying 475 people, sank while en route to Jeju from the port of Incheon, near Seoul. By Thursday afternoon there were nine confirmed casualties and hundreds more people missing, many of them high school students taking a class trip.
The disaster comes at a time when Jeju has been trying to become more than just a local destination. The island is only about 90 minutes from Shanghai by plane, which puts Jeju in the right spot to benefit from an influx of increasingly affluent Chinese travelers. Of the 2.3 million foreign tourists who visited Jeju last year, Chinese accounted for 78 percent.
As the Korean government coordinates the rescue effort, there's no chance of a repeat of the ugliness between China and Malaysia following the mysterious disappearance of Malaysia Airlines Flight 370. After the Malaysians declared the flight had ended in the Indian Ocean, angry relatives of Chinese passengers marched on the Malaysian Embassy in Beijing and accused the country's officials of complicity in the deaths of their loved ones. While the Malaysian jet had more than 150 Chinese on board, there were two Chinese nationals on the Sewol, according to the Xinhua News Agency. The sinking of the Sewol is a tragedy, but at least it won't turn into an international shouting match.
It's also unlikely to put a damper on efforts to make Jeju an even bigger draw for tourists from China. The island has half of South Korea's 16 casinos, most of them off-limits to locals but open to foreigners. South Korea now wants even more casinos to attract foreign money as competition for gamblers heats up. After years of false starts, the Japanese government seems to be moving ahead with plans to legalize casino gambling in Japan. That could hurt the casinos in Jeju, especially if China and Japan ever manage to settle their differences over the disputed islands in the East China Sea.
South Korea has disputes of its own with China, including the matter of overlapping air-defense zones. Still, there's little of the heat and name-calling of the Sino-Japanese quarrel. If Chinese feel uneasy about traveling to Japan for a holiday, Jeju is particularly well positioned to be a convenient and comfortable alternative.
That's one reason Genting Singapore, the biggest casino operator in Southeast Asia, earlier this year moved to team up with Chinese property developer Landing International Development to build a $2.2 billion resort on Jeju. With an area of 2.3 million square meters (24.8 million square feet), the complex will include a casino with 800 tables and will open its doors in 2017. Greenland Group, a property developer from Shanghai, has plans to join with Korean partner Lotte to invest 6 billion yuan ($965 million) in a 218-meter-high hotel, retail, and entertainment complex called the Jeju Dream Tower.
Before it's here, it's on the Bloomberg Terminal.
LEARN MORE