Foreign Executives Trapped in Mongolia
Some foreign executives are banned from leaving the country
Michael Kohn and Yuriy Humber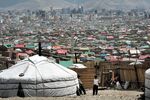 Mongolia is known for its desert vastness and its ample mineral wealth. But 50 or so foreigners know Mongolia as something else: the world's largest jail. In a backlash against outside investors, the country has clashed with at least three multinationals. Police have questioned Western and Chinese business executives and banned them from leaving until the complaints against their employers are resolved. Although the employees have not been formally charged with a crime or imprisoned, at least three have been stranded for almost two years.
Mongolia was the world's fastest-growing economy in 2011, expanding 17.5 percent as its coal, copper, and gold fueled China's boom. Foreign mining companies and their employees flocked to Ulaanbaatar, the capital, to make money and experience an exotic culture. Then China's growth slowed, commodity prices fell, and the appeal of Mongolia to foreign investors started to fade. A serious rift developed between the government and Mongolia's biggest investor, Australia's Rio Tinto, over the cost of developing the giant Oyu Tolgoi mine. South Africa's Standard Bank got enmeshed in drawn-out negotiations with the government. (The bank is seeking $130 million from the government for what it says were mishandled debt repayments by state-controlled and private companies.)
The Mongolian government came up with a novel way to settle differences with foreign companies in its favor. "The travel bans add to the uncertainty and the already negative mood," says Michael Preiss, co-founder of Mongolia Asset Management in Ulaanbaatar. "For some it's the nail in the coffin that this place is just not worth it." (Preiss hasn't been barred from travel.) The bans have affected New Zealanders, Australians, Filipinos, Americans, Chinese, and South Africans. The authorities have imposed bans on mining executives, bankers, and even an orphanage worker.
One company whose employees have suffered especially is SouthGobi Resources, a mining venture that operates largely in Mongolia and is controlled by Rio Tinto. The Canadian miner attracted Mongolian scrutiny in 2012 over a planned share sale that would have given control of SouthGobi to China's Aluminum Corp. of China. After it found out about the planned offering, the government passed a law banning such sales to state-owned enterprises such as Chinalco. Then Mongolian authorities started to probe SouthGobi's books. The Independent Authority Against Corruption found what it said was proof that SouthGobi committed tax fraud valued at $4 billion, an allegation the miner disputes.
SouthGobi's operations were crippled by the investigation, and many employees were idled. At least four were barred from leaving, though they were not accused of any wrongdoing. "I'm in limbo, my career has been destroyed, and I don't know when I will be able to leave," says Filipino Hilarion Cajucom, who was an accountant at SouthGobi until he was laid off. SouthGobi still pays for his apartment as well as a stipend. He can only watch family life back home via Skype. "Deep inside there is a struggle of why, why, why?" he says.
Minnesota native Justin Kapla has lived under a travel ban for the last two years. He was president of the Mongolian division of SouthGobi for six months of the four-year period that Mongolian police are investigating. Kapla has been in Mongolia for 11 years, is married to a Mongolian, and has two children. He has enlisted the help of U.S. congressmen and the U.S. Embassy.
Australian Sarah Armstrong, a lawyer for SouthGobi, was waiting at the airport for a flight to Hong Kong in October 2012 when a familiar face emerged from the crowd. A plain-clothes police officer who had questioned employees in her company's offices weeks earlier was heading for her. The airline staff, not realizing he was a policeman, tried to stop him from entering the area, but he pushed them aside. Armstrong was taken in a police car to headquarters, where she was named as a witness in the SouthGobi probe. Although she was then allowed to leave the station, she was brought back for questioning sometimes three times a week for nine-hour stretches. She says she mostly explained how a Western company works. "They didn't know what a board of directors was," she says. After two months, she got to leave.
Some people who still cannot exit the country asked not to have their names printed for fear of reprisals from the authorities. They speak of anticorruption police picking them up at any time and bringing them into brightly lit, windowless cells for day-long interrogations.
The anticorruption authority and district prosecutors declined to comment about the travel bans and police investigations. The chief of staff of the president's office, Tsagaan Puntsag, says, "I am not aware of this issue. If it's a human rights issue, there are institutions that are in charge of this." The U.S. Embassy knows about the detainees, says spokeswoman Allyson Algeo: "We are concerned by reports that the Mongolian exit visa system is being misused to pressure foreign investors to settle investment disputes. Such concerns could have a chilling effect."
Before it's here, it's on the Bloomberg Terminal.
LEARN MORE