How the Bankers Carried Goldman Sachs Through a Trading Slump
by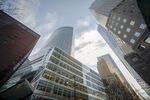 IPOs gush a tide of cash throughout Wall Street, but the biggest piles typically wash up around the corner at 200 West Street, the headquarters of Goldman Sachs. Last quarter was no different: Goldman's vaunted squad of investment bankers saved the firm from a big slump in trading, which has been plaguing the industry for the past few months.
While its traders sat around waiting for orders, Goldman's bankers cornered more cash in the first three months of the year than they have in any quarter since 2007, helping the firm top earnings expectations. All told, investment banking revenue at Goldman reached $1.8 billion, 13 percent higher than a year earlier. The firm got its hands on 31 deals valued at more than $1 billion, which it said was another record.
Here's a look at how the business has done since the crisis:


While bond sales were a bit slow, stock offerings and merger advice propped up profits. Equity underwriting revenue surged 12 percent as Goldman's roadshow team ushered Coupons.com and Intrawest Resorts onto the market, among other big deals. Its haul from advisory work, meanwhile, jumped 41 percent.
While mergers and initial public offerings might be Goldman's strong suit, the company makes most of its money by simply serving institutional clients, a term that spans a range of activities—everything from buying shares for a university endowment to locking in coffee contracts for a hedge fund that wants to bet on a drought in Brazil. These orders weren't as brisk last quarter, which is why Goldman's profit slid 10 percent, to $2 billion, from a year earlier.


Before it's here, it's on the Bloomberg Terminal.
LEARN MORE