Golf Courses See Green Again
Prices climb back from their recession lows
By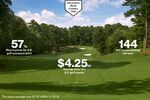 Ben Kenny has spent two and a half years and more than $20 million improving the golf course at his Horseshoe Bend Country Club along the banks of the Chattahoochee River in Roswell, Ga. He's confident the new lakes, streams, putting green, and driving range will pay dividends. "People think I'm crazy, but I'm not crazy," says Kenny, president of Atlanta-based petroleum-storage company Perimeter Oil, who bought 40-year-old Horseshoe Bend for $6.1 million in 2011. "If you run the revenue numbers, I view it as a very solid investment."
Course owners and real estate investors are betting on a comeback following a downturn that was "by far the toughest ever in the industry," says Charles Staples, co-founder of Fore Golf Partners, which has 12 courses in Florida, Virginia, and Maryland. Club memberships and rounds played are on the rise again. Prices for U.S. golf courses climbed 57 percent in 2013, according to Steven Ekovich, vice president for investments at Marcus & Millichap's National Golf & Resort Properties Group. Among operational, regulation-length golf courses with at least 18 holes valued at $250,000 to $75 million, the average sale price was $4.25 million last year. While that's still below the 2006 average of $7.33 million, it's up from the market low of $2.7 million reached in 2012.
During the housing boom, golf course prices climbed as buyers bet on surging property values rather than the fundamentals of the business, according to Jeff Woolson, executive vice president and managing director at real estate company CBRE's golf division. In 2005 and 2006, many housing developers used loans to build residential communities with courses. "But these developers didn't know how to run a golf course," says Chris Balestrino, principal at Park Place Equity, which lends money to real estate investors. "So not just did they struggle with a tapering demand for houses, but they also had the burden of running a business they knew nothing about."
Lenders today are more conservative, focusing on fundamentals such as membership numbers, operating costs, and revenue, rather than potential property value increases. "We only finance golf course owners and operators, not housing developers," Balestrino says. Even so, the "gross overbuilding" of courses by residential developers is still being worked through, says National Golf's Ekovich. In 2012, 141 more U.S. courses closed than opened, down from 154 the previous year. There were about 144 net closings last year, he says, and net "closures should remain over 100 courses per year for the foreseeable future."
That doesn't damp Kenny's faith in the industry. Along with spending about $8 million to renovate his links, he sunk about $11 million into a new clubhouse, $8 million on a pool and tennis center, and $2 million on a parking lot with about 2,000 trees and other plants. The upgrades have helped boost Horseshoe Bend's dues revenue 94 percent, to $3.49 million, Kenny says. Membership has climbed by 100, to 650, since he bought the course, and he expects it to reach 1,000 following the renovations. "I'm very happy with my investment," he says. "It's nice to look out the window at a golf course. It beats looking at a stock portfolio."
Before it's here, it's on the Bloomberg Terminal.
LEARN MORE