Gap's Vision of Its Future: Athletic, Chinese, and Online
by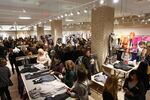 Gap executives talked—and talked—about the future of the company at a nearly five-hour meeting for investors and analysts on Wednesday. Guess what? They think the future is bright.
Beyond that, they actually had some interesting things to say. Here are three main points about Gap's future:
1. The future is in China. Gap had revenues of $300 million in China last year, and executives think that figure could reach $1 billion in three years, making China the second-largest market for the retailer. The Gap brand has 81 stores in China now and expects to open about another 30 this year. The first Old Navy store in China opened earlier this year.
2. The company's brand of the future is Athleta. That's the activewear business Gap bought in 2008, when it was only sold online. Now there are 65 stores, many of them near Lululemon locations. But that troubled rival isn't Athleta's main competitor anymore: "The 800-pound gorilla in this category is Nike," said Glenn Murphy, the chief executive of Gap. "We're not chasing the one-dimensional company [that would be Lululemon], we're chasing Nike. That's where Athleta is going to go."
3. The future belongs to the retailers that can bridge the digital and physical divide. Gap believes it can be the first to do so. "That's not debatable in our company," Murphy said. "Everyone has to realize the world has completely shifted." For that transition to work, the company's more than 3,100 stores must adapt. Select locations have introduced Reserve in Store, a service that allows customers to order clothes online and pick them up in the stores. All Gap and Banana Republic stores in America will soon be part of the program. "I would make Reserve in Store my No. 1 priority if I was a brand president," Murphy said.
Before it's here, it's on the Bloomberg Terminal.
LEARN MORE