Community Colleges, With Help From Obama, Finally Get Into Business
By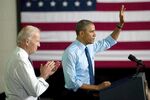 Community colleges on the whole have done a mediocre job of giving students the educations they need to succeed in the working world. A lot of the schools aren't in close touch with employers, so professors don't know about the new skills they need to be teaching. Some view their main job as preparing students to transfer to four-year schools, so they give short shrift to students who want to go to work right away.
Those dysfunctional attitudes are changing, though, and the Obama administration is trying to hurry the transformation. President Barack Obama and Vice President Joe Biden went to the Community College of Allegheny County in Pennsylvania this week to announce that $600 million in job-training funds would be redirected to two projects seeking to connect the worlds of education and work better.
The $600 million isn't new taxpayer dollars; the sum comes from existing money that will be shifted to programs promising more bang for the buck. Obama's initiative is in two parts, as Bloomberg News explained:
•  A $500 million competitive grant program for community colleges that are linked with businesses to teach the specific skills needed for open jobs.
• A $100 million apprenticeship program in which businesses, unions, community colleges, or nonprofit organizations would form partnerships to teach skills for hard-to-fill jobs, such as information technology, high-tech services, health care, and advanced manufacturing."
Crucially, both initiatives involve businesses from the very start. Business owners can't complain that students are being taught the wrong skills if they are given the chance to plan the curriculum to match their needs. "Until recently, businesses have not taken as active a role in trying to close the skills gap as they have in the past five years," says Mark Edwards, executive director of Opportunity Nation, a bipartisan coalition of organizations devoted to increasing opportunity.
"The workforce training world has been hard to navigate for students and employers," says Whitney Smith, the employment program director at the Joyce Foundation, a philanthropy serving the Great Lakes region. In the past, she says, students got little career advice, so they often get off track. The new concept is to create career "pathways" that are easy to follow, enabling students to alternate smoothly between learning and earning as they progress in knowledge and pay.
Before it's here, it's on the Bloomberg Terminal.
LEARN MORE