Sleepy Times for China's Local Stock Markets
Exchanges aimed at funding small companies see little activity
Bloomberg News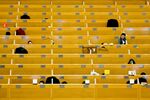 On a weekday morning in early April, Shanghai's over-the-counter stock market is almost deserted. Two cleaning ladies sweep the floor of a trading hall devoid of brokers or computers, while a woman at an information desk eats breakfast and talks on her mobile phone. The scene isn't much different at three other OTC exchanges in Shenzhen, Beijing, and Shandong province visited over the past five months.
Since 2012 at least 18 regional OTC stock exchanges have been launched—some backed by private investors, others by city and provincial governments—as part of a push to help small businesses raise capital. Without access to public markets, small businesses often borrow at high rates from unregulated lenders in the country's "shadow" banking system. A regional equity exchange was set up in Zhejiang province south of Shanghai in 2012, the year scores of businessmen, unable to make payments on underground loans, disappeared or committed suicide.
So far, the fledgling stock exchanges, which have less stringent listing standards than national exchanges, haven't helped many companies. Fewer than one-third of the 150 stocks listed on two large screens at Shanghai's OTC market have ever traded, according to ChinaScope Financial, a Shanghai-based data provider, and only 10 percent of stocks on the Zhejiang exchange traded in 2013. "From Shanghai to Chongqing and Qilu to Tianjin, there isn't much activity on regional equity markets," says Lucas Lu, a vice president at ChinaScope. "The biggest issue is how to make them function like real markets, how to make trading more active on these markets, to get the funding to the small businesses."
While attracting companies hasn't been a problem for the local exchanges, luring investors has. The exchanges are hobbled by broad restrictions the national government imposed in 2011 in a crackdown on unofficial private exchanges that were trading everything from stamps and art to garlic and fruit. The rules require an investor to wait five days after buying a stock to sell it. They also ban market makers, institutions that stand ready to take the other side of a trade when someone wants to buy or sell. The absence of those intermediaries makes it harder for buyers and sellers to do deals. "Without securities companies playing the role of market makers, the exchanges don't provide efficient pricing, as there's always a huge gap between bid and ask prices," says Zhang Qi, a Beijing-based analyst at research firm Zero2IPO Group.
The local exchanges can boast of some successes. Su Jianchang, a mushroom farmer in coastal Shandong province, says he built plants and boosted profits almost eightfold after his produce company, Qihe Biotech, listed on the Qilu exchange in 2011. He employs 380 people, up from about 80 before Qihe's trading debut. A year earlier, Su sold his two homes in Zibo and plowed almost all the profits into new farming facilities as demand for mushrooms from consumers in China, Japan, and South Korea soared. When he wanted to borrow money to fund an expansion, rural credit cooperatives in the village of Qihe wouldn't grant him loans without three corporate guarantors. He ended up borrowing from friends and relatives, paying annual interest rates of 15 percent to 20 percent.
In 2011, Su spent about 1 million yuan ($161,000) on listing and advisory fees. Within three months he sold 40 percent of his company to around 100 investors for 33 million yuan through the exchange. "It's very, very difficult for grass-roots companies from rural areas to get financing," Su says. "We are from a remote area, but we, too, have very good investment projects."
Before it's here, it's on the Bloomberg Terminal.
LEARN MORE