pursuits
Carnival Draws Noisy Union Boycott Over Its CEO's Other Gig
By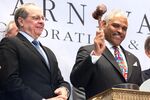 Executives who serve on multiple boards typically keep their corporate families separate. For Arnold Donald, chief executive officer of Carnival, the roles collided today at his first annual shareholder meeting since taking the helm of the cruise giant. Canadian union workers turned up to protest Donald in his capacity as director of Crown Holdings, a food and beverage packaging company at which the workers want to begin new contract talks.
Arnold, who became Carnival's chief last year, is a veteran of numerous corporate boards and currently serves as a director at Bank of America. But it's his role at Crown, a Philadelphia-based maker of beer cans and other containers, that brought the noise on Thursday. Crown has been in a dispute with about 120 employees at its plant in Weston, a Toronto suburb, who went on strike in September when the company demanded wage concessions for new workers. Crown is operating the plant with replacements, and the union says it has been unable to get company leaders to resume negotiations.
Before the Carnival shareholder meeting, union members marched outside the Four Seasons Hotel in Midtown Manhattan. The United Steelworkers union has organized a boycott of Carnival's 10 cruise brands over Donald's Crown directorship. The boycott nominally includes about 2 million people from the Ontario Federation of Labour and two retiree groups, says Lawrence Hay, an official with the steelworkers union in Toronto. "Let me tell you something, this boycott is going to expand," Hay told Donald during the meeting.
The two met to discuss the issue afterward, and Hay says Donald requested some information about the labor dispute. Carnival officials said on Thursday that they've seen no impact from the boycott.
Donald earned $107,000 last year for sitting on Crown's board, which he joined 15 years ago, along with a stock grant valued at $110,000. Donald resigned from several other boards because of his new job at Carnival. Previously he served as a board member for the cruise company; his total compensation from Carnival reached more than $8 million last year.
The repeated comments about Crown rankled Micky Arison, the billionaire former CEO of Carnival and the company's largest shareholder. He told the union members he found it "really ironic" that a small number of workers at a company most people have never heard of would target "90,000 hardworking Carnival employees" with a boycott. "What you're doing, to me, is absurd," Arison said.
Before the testy question-and-answer session, Arnold noted the cruise company's tough financial year in 2013 due to high-profile "voyage disruptions" that led to massive negative publicity for the industry, with most of the fallout hitting Carnival. Still, the company topped 10 million passengers last year, a record, and says it's poised to recover from the losses relatively quickly, helped by its dominant position in the industry. Carnival's lines account for almost half of total industry bookings.
Before it's here, it's on the Bloomberg Terminal.
LEARN MORE