Crowdsourcing Site Tongal Awards Its Winning Ad Pitches
An awards show for intuitive ad makers
Mickey Rapkin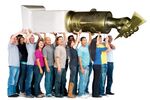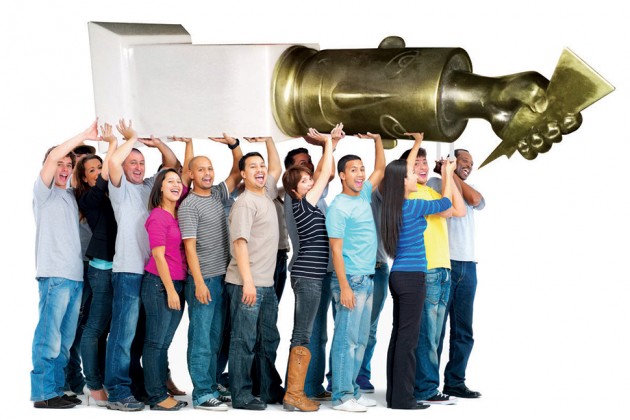 A crowd of 250 has gathered on April 2 at yet another Hollywood awards show, this one at the El Rey Theater on Wilshire Boulevard. There's a buffet of spring pea salad and ginger-almond salmon catered by Wolfgang Puck, plus the promise of a surprise celebrity presenter (Kiss's Gene Simmons). But instead of the usual entertainment-industry sorts, the event is filled with gawky guys more comfortable sitting behind their computers than standing onstage in ill-fitting rental tuxes and receiving statuettes. It's the first annual Tongies, a night honoring the best of Tongal—the crowdsourcing website that pairs creative types with blue-chip brands such as Procter & Gamble and McDonald's to make advertisements and so-called sticky content, addictive website features that get browsers to return often.
Tongal was co-founded in 2008 by James De Julio, who once worked for movie producer Robert Evans but became frustrated by Hollywood's inefficiency. De Julio saw Tongal as a way to help innovative people get to work faster and to upend the traditional Madison Avenue game. Tongal's name is inspired by James Surowiecki's 2004 book The Wisdom of Crowds about the benefits of group collaboration (Tongal is an anagram for Francis Galton, a British statistician who, while attending a fair in 1906, found that during a contest to guess the weight of an ox, the average of the crowd's wagers was more accurate than any one individual's guess.)
The company handles as many as 200 projects annually, and the process is pretty straightforward. For example, Anheuser-Busch InBev recently asked Tongal users to think about Natural Light beer and a campaign that "keeps it real." Tongalers submitted ideas on Twitter. Producers pitched video treatments. Budgets were awarded. The winners earned as much as $2,500, plus residuals.
Tongal has competitors such as Poptent and Zooppa, as well as critics from traditional advertising. The big agencies rely on psychometric research and lengthy breakdowns of return on investment. Tongal assumes its citizen Don Drapers instinctively know what the market wants—because they are the market.
Colgate-Palmolive spent $17,000 on a Tongal-produced ad for Speed Stick. The commercial proved so winning that the company paid $4 million to air it on TV during the 2013 Super Bowl. The spot, featuring a man in a laundromat caught holding sexy girls' underwear, ranked higher on USA Today's ad meter than traditionally produced ads from Coca-Cola and Subway. "That's a great calling card for us," says De Julio, who raised $15 million in financing last year from Insight Venture Partners, backer of Twitter and Tumblr.
Karim Lakhani, an associate professor at Harvard Business School, puts Tongal in the same category as crowdsourcing businesses such as TopCoder, a site for programmers that recently teamed up with NASA on an asteroid project, and T-shirt site Threadless. There's no turning back from this model, he says. "We're allowing more people access to the problems and [offering] the ability to present themselves to interested buyers," says Lakhani. "By the time some of these contributors get to Madison Avenue, it might be too late. Or they might never get there."
The Tongies began as something of a joke around the company's Santa Monica, Calif., office but quickly morphed into a night that features a signature cocktail and an ice sculpture of the Tongal logo, a bull. De Julio sees the awards as a way to foster a sense of community among the site's users. "We have 50,000 people that work for us who have no obligation to do anything," he says. The 53 nominees are a diverse group, ranging from aspiring creative types such as 17-year-old Zach Boivin, who opened his YouTube channel at 13 and learned animation from a book, to established professionals such as Chris Marrs Piliero, who won an MTV Video Music Award in 2010 for directing the Black Keys' Tighten Up. Piliero was nominated for a Tongie for his Ivory Soap spot, 5th Mom.
The lights dim. The first category is Idea of the Year—and the Tongie goes to David Kilgo from Tuscaloosa, Ala., for his Pringles potato chip concept, Imitating Vader. (The pitch: "Somebody using an empty Pringles can to sound like Darth Vader. Then the real Darth Vader taps him on the shoulder, not amused.") Kilgo, handsome and confident, approaches the podium like a pro. "I have no idea how to give a speech," he says. "So I watched Ben Affleck's [Oscar] speech from Argo." He adds, "I'd like to thank my wife, Jennifer Garner."
Before it's here, it's on the Bloomberg Terminal.
LEARN MORE