A Fun Night Out for Under $200,000
by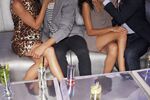 In "Tuesday Night Fever ," Loot took you on the standard city-guide clubbing tour of New York. Here, we take a different kind of tour, with one of Manhattan's "Black Card promoters," to see how the nightlife elite roll.
Fast.
"This is a secret-handshake business. We're very discreet," says Abe Quinones. "I won't name names, but we do this for high-end athletes, celebrities and Wall Street guys."
I take in the too-beautiful-to-be-true midnight dinner crowd at the General , who are pre-gaming it before hitting Finale downstairs. I haven't seen this many models drinking champagne since Fashion Week. They're cavorting with players from the Los Angeles Clippers at one table and with investment bankers celebrating a "big deal" at another. It's a devilish tableau of bleached hair, leather pants and Swiss watches.
The placement of these characters is strategic, and all part of what Quinones calls his Black Card concierge business, after the Amex Black Card, issued by invitation only. If you wanted to pay your way past the velvet ropes and into a high-end night, you might call him.
"He's our go-to for clubs, tables and any other celebrity-strewn event. We use him a lot when entertaining clients," says Victor, 39, a senior trader at a New York hedge fund. Quinones is also one of the operators club owners pay to bring in the right crowd.
"Your Rolodex is your income. Clubs broker a deal with you if you can leverage your book of business," says the slick-haired New Yorker as he tucks into a meal of designer sushi and coconut rum. Quinones's gig is pretty straightforward: Bring the celebrities (free press for the clubs) or high spenders, or both.
Pulling this off takes a natty little SWAT team. Behind the promoter's handshake is a professional cast of club hosts, doormen, managers and entertainers who stage a nightly production for VIP guests ready to drop a lot of money.
The average spend is between $100,000 and $200,000 for a night out, says Quinones. What's the return on investment? After the promoter pre-swipes your card at the amount you've agreed to and takes a fee (Quinones says his is 5 percent), you won't need your wallet for the rest of the night.
Services vary, but the standard deal involves a door-to-door black-car driver, a "runner" who makes sure you're happy with everything from your table placement to the club itself (there's always a Plan B), free-flowing alcohol of your choice and, in most cases, very pretty people waiting at your table for you. The tables at the General are an obvious, stiletto-heeled example.
Yes, it all dances giddily on the knife's edge of tacky. Maybe it tips over the edge and falls right into tacky, on its well-toned behind. But for one night, VIP clients get to be the star of their own flashy movies, with the clubbers all around them as extras.
The Door
At Finale, Matt the doorman is known as the Gatekeeper. At the Box , tuxedo-wearing bouncers will say something indecipherable into their earpieces before they let you in. The high-end burlesque clubDiamond Horseshoe [brought to you by the Box owners Simon Hammerstein and Randy Weiner] has made "Dress to please the queen" its velvet-rope tag line. At 1 Oak , it helps to be Jay-Z (who sings about the club in his "Beach is Better" song) or, failing that, a model. The clubs are selling liquor, their highest-margin offering. An elite appearance, studded with models and celebrities, helps them charge more for it.
"We have to maintain that mystery. People want something exclusive, and they're willing to pay more for it," says Richie Romero (yes, his stage name). He's the club director at 1 Oak, and he has Quinones on speed dial.
Much of this is smoke and mirrors. If these clubs have a table sitting open (though that's rare from 1 to 4 a.m.), chances are they'll try to sell it to you, whoever you are. On the other hand, they like to wave the gorgeous girls in, while dictating table minimums to the men. "Sex sells," says Quinones, before whisking past two imposing bouncers with little more than a nod.
The Tables
At the Box, on Chrystie Street, it appears to do just that. Fire-engine-redhead Mallory Matoush, the 22-year-old VIP host at the General and other clubs, tried to warn me: "You never know what you're going to walk into."
A weird energy pulses through the room as vocal powerhouse Kimberly Nichole re-enacts her version of Katy Perry's "Dark Horse." Once the beat picks up with Mariah Carey's "Fantasy" remix, everyone on stage and on the tables and in the opera-style booths upstairs is twerking and singing. "Here you're paying for a show you won't see anywhere else," says general manager Jono Mason, a rock-star spirit from Durban, South Africa. The front-row booth table he's lounging on is adorned with sparkling champagne flutes and typically goes for $10,000.

Each week, the Box auditions performers for its late-night variety show. On the Tuesday of my visit, the show features some very talented singers, dancers and jugglers, who happen to be nude or semi-nude she-men, transvestites, bombshell blonde divas or just plain old exhibitionists. I hadn't seen it anywhere else.

And it's not for everyone. The Box's sister club, the Act, in Las Vegas, wasshut down last year by Sands Corp for lewd behavior. How bad does it have to be to get shut down in Vegas? For now, the revelers on Chrystie Street are getting away with it.

For a more traditional affair, head to Finale, or 1 Oak, or even to their burlesque rival, the Diamond Horseshoe, where the money flashers of high finance are alive, well and out in force. I check out the table next to the DJ booth, the most coveted spot at Finale. A tall, angular sell-side banker named Richard orders a Parade, a train of seven sparkler-waving waitresses serving Dom Perignon in a just-for-you ritual. For a charged few minutes, all eyes are on him and his jubilant friends.

Nothing special, he's just a typical Black Card concierge client. "Say we do a billion deal. Three percent of that is 30 million dollars. Bottom line, a night out at $100,000 is just not relevant," says Richard.
Seems a high price to pay just to show off. What's the appeal?
"It's totally 'Wolf of Wall Street,' " says Richie Romero, before welcoming similar clients into 1 Oak. "Somebody that's spending $100K -- that's a performance. Nobody could possible drink that much," .
The girls I get. The champagne I get. But paying more to be close to the DJ?
The Music
Quinones and Romero, both 38 now, started out DJ-ing as teenagers. They used to have to beg clubs to spin. Now, they say, clubs pay top dollar to pull in star DJs, who can draw huge crowds with one tweet. Matoush, the VIP host for the EMM Group (owners of seven nightclubs, including Finale), tells me Finale has had DJ Tiesto, rapper Nas and Jamie Foxx drop in unannounced and spin. They're so much in demand, these guys have their own agents.
"In the music business, DJs that go on touring circuits for EDM [electronic dance music] are massive," says William Derella, 52, longtime talent manager and president of DAS Communications, an international entertainment management firm. "And Finale brings in a lot of the big-name DJs."
Still, after a few long nights of EDM, house and what Derella calls iconapop (think Katy Perry, Kanye West and Bruno Mars), I can't help but wonder what's next.
What's Next
How long can expensive clubs keep playing the same sounds? "Music trends are cyclical. '70s-style disco is working its way back into the EDM world," says Derella. He cites Daft Punk's "Get Lucky " and remixes of songs like "Le Freak" by Chic as fresh meat for the dancerati.
Anything else? "You want to watch the growth of Latin music, given the growth of Spanish people in America," Derella adds. The trend does seem inevitable, given the U.S. Census Bureau's projection that the Hispanic population will grow by about 140 percent, to 128 million, by 2060. Derella, in the music business for three decades, predicts that Mariah Carey remixes are about to be run over by newcomers like Prince Royce, nominated for 16 Billboard Latin music awards this year.
As for Mr. Black Card concierge, he doesn't care what the clubs play, as long as his high rollers keep coming back for more.
Before it's here, it's on the Bloomberg Terminal.
LEARN MORE