Vermont to Grade A Fancy: Drop Dead
by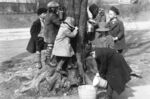 When Vermont's secretary of agriculture changed maple syrup grading systems on Helen Robb, she felt homogenized.
"Homogenized and neutralized," says Robb, of Robb Family Farm and Sugar House , in Brattleboro, Vermont. She says the state had "distinctive grades," like Grade A Fancy, Grade A Medium Amber, and Grade B. In the new system, which connects the color of the syrup to its flavor, Grade A Fancy is Grade A Golden Color With Delicate Taste.
Robb is afraid the new designations, intended for use across the U.S. and Canada, will render her Vermont maple syrup indistinguishable from any number of lower-quality syrups. "I'm concerned greed is going to take over the industry," she says. "As long as it makes a color criteria, now you can market it, even if it has an inferior flavor."
"It's just a change in how we refer to things," says Matt Gordon, executive director of theVermont Maple Sugar Makers Association . Gordon argues that the old stalwart syrup grades might be meaningful to Robb and her relatively small clientele, but that they didn't translate well to a broader consumer audience. He says that crimped large producers' efforts to sell internationally. "We were all making the same product but using different names," he says. "The new grades will help with exports."
Dave Chapeskie, the executive director of the International Maple Syrup Institute , which came up with the new names, says, "We deal with multiple languages around the world. We want to make sure there's no confusion when we communicate with our unique product."
Chapeski says the plan has been in the works for more than a decade. In 2002, the Institute's board formed an international committee "to look at the nomenclature from both sides of the border," he says. "The committee recommended that syrups have a taste descriptor on the label, like with cheddar cheese."
The idea was just to let people know what they're buying. Still, the committee moved cautiously, partly because of the many small producers like Robb. "We realized it would be a significant change for the industry," Chapeskie says.
By 2005, the panel had come up with preliminary color and taste descriptors. It hired a market research firm in Quebec, Cintech Agroalimentaire, to test the new classifications. In 2009, the committee presented a set of final recommendations to the board. It took two more years to get a dossier to federal and state agencies in Canada and the U.S.
Now, 12 years after the committee's first meeting, Vermont and New York are implementing the new system. Legislators and regulators in Maine and New Hampshire hope to adopt it, too, though neither state has final plans.
"Change is hard," Robb says. "But it doesn't look like there's any recourse for us. So we suck it up and we go on."

Before it's here, it's on the Bloomberg Terminal.
LEARN MORE