pursuits
This Cheese-Stuffed, Bacon-Wrapped Corn Dog Is 3,000 Calories—and Only in Arizona
By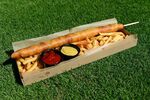 The "D-bat Dog" is an 18-inch corn dog in Arizona that's pumped full of cheddar cheese and wrapped in bacon. Alone, it weighs in at about 1 pound, but it's served on top of another pound of fries. Sounds overwhelming, but fans seem to love the gargantuan, $25 corn dog, created for the Diamondbacks' Chase Field. Michael Snoke, executive chef for ballpark concessionaire Levy Restaurants, takes full responsibility for the aggressively large meat stick.
"People are just buying it like crazy," the jovial chef says. The stadium has sold 120 to 350 D-bat Dogs per game so far. Although regular dogs are still the most popular, the concessions have been selling more of the novelty items than they expected: Snoke says they "blew through" the 300 D-bat Dogs they prepared for Opening Day. "Because the [preparation] process takes so long, it's hard to keep up after that." To improve efficiency, Snoke is looking for a better tool to hollow out the dogs for stuffing with cheese—the preparers currently use a very long soda straw.
The chef came up with the idea himself. "I was like, 'How can I make a corn dog better? Well, let's make it bigger.'" Other stadiums have been similarly inspired by size: The Texas Rangers have a giant, 3-pound pretzel and the Chicago White Sox serve a banana split with 12 scoops of ice cream.
After finding a local supplier who could make an 18-inch dog—the max length his deep fryers could handle—Snoke decided to fill it with gooey cheese. But he needed to figure out how to keep it from oozing out. "What's the obvious thing?" he asks. "Bacon. I ended up wrapping six whole strips of bacon around the hot dog. It still wasn't keeping the cheese inside. I realized I had to freeze it before cooking it. It ends up being a two-day process."
A skewer goes through part of the dog's length, but that's just for presentation. If you pick it up using the stick, the limp, unskewered part will flop over. "It's so large it can't support its own weight," Snoke says. "If you pick it up, use two hands. Or use a knife and fork."
The bed of fries on which the dog is served is "for height," Snoke says. "It's presentation." Although of course people end up eating the potato garnish too. The D-bat is meant to be shared with one to two friends. Altogether, fries included, it's about 3,000 calories.
The Texas Rangers have their own 2-foot, $26 hot dog called the Boomstick, and Snoke is aware that chefs for other teams might try to one-up his masterpiece with their own larger corn dog. "Better have a bigger deep fryer," he warns.
Before it's here, it's on the Bloomberg Terminal.
LEARN MORE