Telecom Italia Appoints Recchi Chairman
Daniele Lepido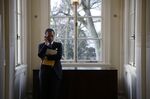 Telecom Italia SpA shareholders yesterday voted for a board with Giuseppe Recchi as chairman after months of clashes over the indebted company.
Chief Executive Officer Marco Patuano will work on revamping profit with the new slate of directors approved for three-year terms at a meeting lasting more than 11 hours in Rozzano, near Milan.
The vote allows Patuano to continue his work of the last six months, upgrading networks, doing partnerships with broadcasters and selling non-core assets. It is a turning point after tension between largest shareholder Telco SpA, led by the Telefonica SA, and groups headed by Findim SA's Marco Fossati.
"The vote shows that Telecom Italia is becoming a public company and the market expressed its view," Patuano told reporters after the meeting. "Fossati's Findim is an important partner even if he hasn't got a seat on the board."
Telecom Italia shares were little changed at 85.6 cents at 9:24 a.m. in Milan. They have advanced 19 percent this year, after ending eight straight annual declines in 2013.
Some director names, topped by Recchi, the former head of Eni SpA, were proposed by Telco, which owns 22.4 percent of Telecom Italia. In the past, Telecom Italia's board picked the chairman. Since most new directors are classified as "independent," the step will also allow Italy's largest phone carrier to become a public company in time.
Telco got backing for three directors in the first round of voting and another seven in the second round. Italy's mutual funds association Assogestioni got all three of its proposed candidates approved after winning the most votes in the first round. Shareholders set the number of directors for the board at 13.
The new directors are Lucia Calvosa, Davide Benello, Francesca Cornelli, Denise Kingsmill, Flavio Cattaneo, Giorgina Gallo, Laura Cioli, Giorgio Valerio, Luca Marzotto. Tarak Ben Ammar and Jean Paul Fitoussi were reconfirmed as board members.
Findim Defeated
The decisions were another defeat for Findim, which has 5 percent of the company. In December, shareholders rejected Fossati's proposal to dismiss directors over possible conflicts of interest between Telefonica and Telecom Italia.
Yesterday he challenged Telco's list with a slate led by Vito Alfonso Gamberale as proposed chairman. None of Findim's candidates became directors.
"The vote clears the way for Telecom Italia to focus on value-added services," Carlo Alberto Carnevale Maffe, a business professor at Milan's Bocconi University, said before the meeting. "It becomes more independent from individual investors' wishes and freed from conflicts of interest."
In February, Patuano backed changes to corporate governance to allow shareholders vote on its new chairman and giving minority investors more say over company's choices.
Telecom Italia separated the role of chairman and CEO after Franco Bernabe's departure last year.
Recchi Role
Recchi, 50, served since 2011 as chairman of Italy's largest energy company Eni. He worked also at General Electric for more than a decade in finance, mergers and acquisitions, and strategy. He was head of GE South Europe until 2011. He is also a board member of Exor SpA, the Agnelli family holding company that controls Fiat SpA. He started his career as an entrepreneur in 1989 at Recchi SpA, a builder of public infrastructure.
Telco also considered proposing Borsa Italiana SpA Chairman Massimo Tononi to head Telecom Italia's board, people familiar with the matter have said.
Patuano, accelerating his efforts to revive the indebted former phone monopoly, is adding services in a bid to boost phone bills as competition hurts margins in Italy's saturated market. A broadband pay-TV service may shake up the Italian TV and video market because the country doesn't have major cable carriers.
Tim Brasil SA is a strategic asset, Patuano told the meeting, and there is a need to invest more in Brazil to increase the asset's value. An increase in Telecom Italia's stock price showed that the actions of credit-rating companies were unjustified.
Before it's here, it's on the Bloomberg Terminal.
LEARN MORE