Taco Bell's New McDonald's Attack Ads Seem Awfully Familiar
By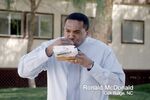 The advertising business is rife with imitation. But even by the generous borrowing standards of the industry, a new high-profile Taco Bell ad is unusually brazen in its lack of originality. Or so says the head of a Los Angeles ad agency who claims that a cornerstone of Taco Bell's new breakfast campaign—fashioned in part by the renowned documentary filmmaker Errol Morris—is an obvious knockoff of his agency's work.
"Creative people get territorial about ideas," says Richard Sittig, the founder and creative director of Secret Weapon. "Our ideas are really the only things that we have. So we get a little touchy when we see something that we've done, being done by somebody else."
… with this ad, which Deutsch LA just made for Taco Bell:

"It's a little close for comfort," Sittig says. "It's not a different industry. It's not like we did an ad and then a vacuum cleaner company did something similar. It's fast food. It's exactly the same idea."
The Taco Bell ads in question premièred last month as part of the fast-food chain's aggressive move (hello, Waffle Tacos) into the breakfast business. It takes clear aim at market leader McDonald's. Deutsch LA rounded up a bunch of real-life Ronald McDonalds—as it turns out, the name of a certain clown mascot is also a common name throughout America—and then shot them feasting on Taco Bell's breakfast items. The ads can be seen here and here. "I'm Ronald McDonald," says Ronald McDonald of Chicago in one ad. "And I love Taco Bell's new breakfast," says Ronald McDonald of Akron, Ohio, a moment later.
Clever? Sure. Original? Not exactly.
More than a decade ago, Jack in the Box ran a similar ad as part of a mischievous campaign in which "mascots" from other fast-food chains with slightly tweaked names (a subway rider named Jared, the home of the Voppers, etc.) endorse Jack in the Box burgers. In one of the ads the Jack in the Box mascot walks up to a house, rings the doorbell, and meets a guy named Ronald MacDonald (the extra "a" is intentional, according to Adweek), who then chows down happily on a Jack in the Box burger. "Now my burgers are so good," says the mascot, "even Ronald MacDonald likes them."
So how did Deutsch LA happen to regenerate a 12-year-old idea? A spokesperson for the company declined to comment. In a blog post on the agency's website, however, Deutsch LA offers a behind-the-scenes look at how it created the ads. "It was a massive effort that started with the initial challenge of getting our Ronald McDonalds," the post explains. "Our team's casting agency found more than 1,000 real Ronald McDonalds from across the country." Deutsch LA goes on to boast that the agency brought in Oscar-winning director Morris "to lend his documentary style shooting to this commercial." Nowhere in the extensive post is there any mention of the previous Jack in the Box ads.
"To some extent because Jack in the Box is a regional player—we're primarily on the West Coast and in the Southeast—I think sometimes national players feel like they can pick on us," says Sittig. "It's not the first time that people have taken things from us."
Rob Goldenberg, an independent copywriter who worked with Sittig on the original Jack in the Box campaign and later spent a couple of years working across town at Deutsch LA, says that when he first noticed the Taco Bell ads he immediately e-mailed Sittig. "I was like, 'Have you seen this? This is insane,'" says Goldenberg. "Shame on them for not doing their due diligence."
Original or not, don't expect Taco Bell to slow down its attack on McDonald's anytime soon. In 2013 the Tex-Mex chain spent $310 million on TV ads, according to Kantar Media, up from $244 million in 2012. Taco Bell last week unveiled a TV spot mocking McDonald's Egg McMuffin.
In March, McDonald's fired back on Twitter, posting an image of its corporate clown crouching down and petting a frightened-looking Chihuahua. "Imitation," wrote McDonald's, "is the sincerest form of flattery."
Perhaps. But for now, the Jack in the Box ad team remains less than amused by Taco Bell's imitation of its work. "In some ways it's flattering," Sittig says. "But in other ways it's just annoying."
Before it's here, it's on the Bloomberg Terminal.
LEARN MORE