L.A. Gets a New Daily Newspaper and Plenty of People Ask Why
By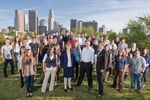 The City of Angels awoke this morning to find a new daily newspaper that aspires to challenge the dominant Los Angeles Times. The weirdest part of this odd business news story? The new Los Angeles Register is printed with ink on paper and will get thrown on subscribers' doorsteps starting next month.
The Orange County Register's audacious owners are looking north to launch an old-fashioned newspaper battle in an era when news has become largely the domain of headlines served on smartphones. It's certainly a counterintuitive move for Freedom Communications in an industry that has seen advertising revenue shrivel mightily in the past decade, leading to industrywide job losses, reductions of daily publishing schedules to only a few days per week, and the public's general sense that eventually print newspapers will yield to an all-digital destiny.
"Only in the newspaper business would someone criticize a business for opening in a market of 10 million people with a great quality product," publisher Aaron Kushner told his flagship paper this week.
The Los Angeles Register plans to focus aggressively on local news and a "pro-business, right-of-center" bent in its opinion pages for a Left Coast city that is decidedly blue, politically. It's 50-60 pages each day and 80 on Sunday, sold initially at 5,500 retail spots and news racks. The paper's coverage of Los Angeles news will distinguish it from its larger rival, which Kushner called "a very nice national newspaper" this week in an interview with a local public radio station. Freedom launched a Long Beach Register last summer, along with a variety of free local weekly and monthly ad vehicles in 2013. It acquired the Riverside Press-Enterprise for $27 million in October from A.H. Belo, publisher of the Dallas Morning News.
The L.A. offshoot has no new staff, transferring about 40 reporters and editors from Freedom's main Orange County paper, which boosted its staff heavily in 2013. Second, the paper will find some new revenue from its siblings' existing advertisers, especially given that Los Angeles is a far larger business market than Freedom's Orange County base. "They'll make more money on each single copy than what it will cost them and the reporters are already a sunk cost," media consultant Ken Doctor told the Orange County paper.
To lure advertisers, new news brands tend to focus on "proven differentiated content" such as extremely local news, says Liang Feng, a Morningstar media analyst. (Think Patch.com, the former AOL-owned hyperlocal news venture.) "The most successful firms have been able to pull in a local demographic that would struggle to find all this news in one place."
Of course, the new paper could ultimately just be an editorial placeholder until Freedom is able to acquire the L.A. Times, the big local media prize, as Kevin Roderick, a former L.A. Times reporter-turned blogger, put it in a post about "sane-sounding speculation" regarding the new newspaper. The Times' parent, Tribune, is spinning off its eight newspapers into a new Tribune Publishing division, which will carry about $325 million in debt due to a dividend payment it's paying the former parent company. The papers will also pay Tribune about $30 million rent annually. All that debt could put the L.A. Times on the sales block—and until then a bit of new revenue from its L.A. newspaper may help Freedom fund a bid.
Before it's here, it's on the Bloomberg Terminal.
LEARN MORE