Germany Gets Tough on Russia as Broader Sanctions Eyed
Carol Matlack, Henry Meyer and Arne Delfs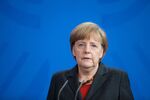 Angela Merkel wasn't in a hurry to inflict economic pain on Russia. Cautious, pragmatic and mindful of German business ties to the country, the chancellor tried to defuse the Ukraine crisis through back-channel diplomacy and frequent phone calls with Russian President Vladimir Putin.
Those efforts failed -- and now Merkel looks ready to embrace the tougher sanctions that some U.S. politicians have been pushing for, Bloomberg Businessweek reports in its April 21 edition.
In mid-April, Germany stopped granting licenses for arms exports to Russia and put on hold a 700 million-euro ($970 million) satellite-technology sale by Airbus Group NV, according to two people familiar with the negotiations.
Europe "shouldn't be filled with fear" that sanctions might provoke retaliation, Merkel told a convention of her Christian Democratic Union party in Berlin on April 5.
Behind the scenes, Germany is making plans for the next phase of sanctions, according to a high-ranking official who asked not to be identified in keeping with government policy. The measures under consideration would be much wider-ranging and more harmful to Russian business interests than the limited asset freezes and visa bans already put in place by the European Union, said the official.
Geneva Talks
Ministers from Luxembourg and France have raised the possibility that new sanctions may be announced next week. That may depend on the outcome of four-way talks aimed at defusing the crisis in Geneva today between Ukraine, Russia, the U.S. and the EU.
A possible next step is targeted measures such as curbs on high-technology and military exports to Russia. In one of the most extreme scenarios being discussed, Russia might be locked out of Swift, the Belgium-based international money-transfer system, as happened to Iran in 2012. That would cripple Russia's banking system.
With Merkel on board, the odds of a package of broader EU sanctions increase considerably. She's Europe's most powerful politician, with a record of getting balky neighbors to follow her lead.
Biggest Partner
Germany, as Russia's biggest European trading partner, would bear an outsize share of the risk if Putin retaliated against German business interests in Russia.
The Europeans have the ability to tie the Russian economy into knots quickly -- and more effectively than the U.S., whose annual trade with Russia is only about 10 percent that of the EU.
Hammering out details of a sanctions package will be tricky, though. The most obvious risk is that Russia might curb the flow of oil and gas, which accounts for about one-third of Europe's supply.
Germany is vulnerable because its Russian gas imports have risen since Merkel ordered a shutdown of the country's nuclear plants. German industrial giants such as chemical group BASF SE depend heavily on Russian fuel.
Other EU states have different vulnerabilities. Britain, for example, has become a financial hub for Russian companies that raised about $8.2 billion through London stock-market listings over the past five years.
Prime Minister David Cameron has joined Merkel in calling for accelerated talks on sanctions and could back them up by barring a couple of big Russian banks from doing business in London, according to John Herbst, a former U.S. ambassador to Ukraine who is now at the National Defense University in Washington.
City Dissuasion
"A discrete sanction or two from the City of London may be enough to keep Putin from doing something really nasty in Ukraine," he said. Herbst said he doubts, though, that Britain would take such action, because it's hooked on Russian money.
Likewise, France isn't eager to give up deals such as a $1.7 billion contract to sell two Mistral helicopter carriers to Russia's navy. Foreign Minister Laurent Fabius said on April 15 that the EU should impose stiffer sanctions on Russia if the Geneva talks fail to produce an agreement on Ukraine. Though he said earlier that France "could envisage" blocking the Mistral sale as part of a sanctions plan, he said France wouldn't make a decision on that before October.
The European Commission gave ambassadors of the bloc's 28 countries details yesterday of the potential impact on their economies of possible broader sanctions, according to an EU official who spoke on condition of anonymity.
Export Jobs
Merkel could face a rebellion at home. About 6,000 German companies do business in Russia, while the jobs of 350,000 German workers depend on Russian trade, according to the Committee on Eastern European Economic Relations, an organization representing Germany's main business lobbies.
Until now, Germany Inc. has kept quiet.
"There was an unspoken deal struck in which the business community grew silent in return for Merkel agreeing to work very hard to prevent economic sanctions," said Carsten Nickel, senior vice president of Teneo Intelligence in Berlin.
That agreement now looks to be unraveling.
Joe Kaeser, Siemens AG's chief executive officer, traveled to Moscow in March for a meeting with Putin that, he told ZDF television, was intended to show his company "won't be overly influenced by short-term turbulences."
The trip drew a rebuke from Vice Chancellor Sigmar Gabriel, who said German companies should show that the nation can't accept Putin's "imperial policy."
'Too Late'
The CEOs of steel giant ThyssenKrupp AG, Adidas AG and Deutsche Post AG questioned the need for sanctions in a round-table discussion with the newspaper Die Welt late last month.
Asked if Putin should be stopped, Adidas CEO Herbert Hainer said: "I'd turn the question around. I wonder if one shouldn't have included Putin in the process much earlier, rather than starting talks when it's too late."
That echoes arguments from Russia.
"If you have more sanctions, it makes it much harder to conduct a diplomatic process," said Fyodor Lukyanov, head of the Moscow-based Council of Foreign and Defense Policy, a think tank that is close to the Kremlin.
Since early March, Merkel and Putin have averaged more than one phone call a week. Until recently, Merkel thought she had a basic understanding of Putin, said the high-ranking German official, who is familiar with their discussions. She was shocked, though, the official said, by Putin's determination to annex Crimea and by her conclusion he had lied during some conversations -- for example, by denying that Russian soldiers had entered Crimea.
Merkel doesn't allow herself to be distracted by "personal emotions" in such situations, said Teneo's Nickel. "But trust and reliability play a big role. It turns into a question of credibility."
Before it's here, it's on the Bloomberg Terminal.
LEARN MORE