What Are Tech Shares Worth? Depends Which Side of the IPO You're On
by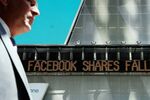 Venture capital is blowing up, while technology shares are cooling off.
VC firms in the U.S. raised $8.9 billion in the first quarter of 2014, more than double the amount raised to start 2013, according to new data published by the National Venture Capital Association, which called it the industry's best quarter since 2007.
At the same time, publicly traded technology companies have led a broad decline in stocks in recent weeks, with the Standard & Poor's 500-stock index down 2.8 percent since hitting an all-time high on April 2. Micron Technology, First Solar, Yahoo!, and Facebook have all lost more than 9.7 percent since then. Some young technology companies have fared even worse, with Twitter losing 10.2 percent, Groupon down 16.8 percent, and Yelp off 21.1 percent over the same period.
This is one of those moments where what's happening in the private markets doesn't line up with what's happening in the public markets. The piping-hot venture capital industry has been shoving money at startups that don't even need the cash. Companies such as Quora and Nextdoor have taken funding despite already having ample operating cushions. "There's a Silicon Valley expression: Eat when the food is passed," Nirav Tolia, chief executive officer of Nextdoor, told the New York Times.
Startups have been commanding eye-popping acquisition prices from the likes of Facebook, which paid $19 billion for the messaging service WhatsApp and $2 billion for a virtual-reality company called Oculus. Google paid $3.2 billion for Nest, which makes smart thermostats and smoke detectors.
Venture capital firms raised 58 funds in the first quarter, an increase of 9 percent from the fourth quarter of 2013, the NVCA said. If this pace continues, the dollar commitments would bring the industry back to a level not seen since before the financial crisis.
"With the exception of some established firms, fundraising for most venture capital firms has been difficult in recent quarters due to a shaky exit market," the organization's CEO, Bobby Franklin, said in a statement. "Recently, however, we've been experiencing an uptick in IPO activity as well as momentum in the M&A market, enabling venture capital firms to distribute proceeds to their investors and begin the process of raising money for the next crop of American businesses."
Box, a cloud storage and security company, is about to test the public market's current appetite for risky tech stories. It filed for a $250 million initial public offering on March 24, disclosing revenue of $124 million and costs of $171 million. King Digital Entertainment, which makes Candy Crush Saga and other games, has lost 22 percent since its March 25 IPO.
Before it's here, it's on the Bloomberg Terminal.
LEARN MORE