Detroit Pension Funds Reach Tentative Deal With City
Steven Church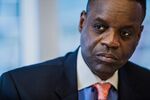 Detroit's two pension systems said they reached a tentative deal reducing cuts the bankrupt city's emergency manager threatened to impose on retirees as part of its plan to shrink $18 billion in debt.
General employees' pensions would shrink by 4.5 percent, instead of the 26 percent initially proposed by emergency manager Kevyn Orr, according to a person familiar with the settlement. They would lose an annual cost of living adjustment and anyone who may have been overpaid under retirement-related saving plans would be subject to a maximum 20 percent clawback, said the person, who asked for anonymity because the negotiations are confidential.
Police and fire employees would see no reduction in their monthly pensions and have their cost-of-living adjustments capped at 1 percent. The agreements may make it easier for the city to win enough votes to lock in an $816 million contribution from Michigan lawmakers and private foundations, helping to clear the way for the city to end the biggest municipal bankruptcy in U.S. history later this year.
The potential settlements "are the result of months of hard work and good faith negotiations," the two retirement systems said in a statement last night.
Pension Changes
The pension systems' boards are scheduled to consider the settlements tomorrow, according to the person. The city and pension officials are still negotiating details of possible changes to how the systems are managed, the person said.
Bill Nowling, a spokesman for Orr, didn't immediately return a message seeking comment on any tentative deal.
Any pension deal can go through only if enough retirees and current employees vote in favor of a final version of such an agreement as part of the city's plan of adjustment. That plan needs the approval of U.S. Bankruptcy Judge Steven Rhodes.
The city is scheduled to seek permission tomorrow from Rhodes to send its debt-adjustment plan to creditors, including the retirees, for a vote.
The state and private foundations have offered $816 million to bolster the pension systems while shielding Detroit's art collection from a forced sale. For the city to get the money, a majority of both retirees and current workers who cast ballots must approve the debt-adjustment plan, and that majority must hold at least two-thirds of the groups' claims.
Potential Cuts
Should enough retirees reject the plan, general workers would see their pensions cut by about a third, while police officers and firefighters would lose 14 percent.
The pension systems' announcement came a few hours after mediators overseeing talks between the city and creditors said that an association of police and firefighters had struck a deal with the city.
"The mediators hope that this settlement will encourage all of the remaining parties to the bankruptcy to redouble their mediation efforts to reach meaningful agreements," the mediators said in a statement distributed by the U.S. District Court in Detroit, where the chief judge is overseeing negotiations.
Detroit filed the biggest-ever U.S. municipal bankruptcy in July, saying it couldn't meet financial obligations and provide essential services. Since then, the city and creditors including bond insurers, public pension systems and unions have been negotiating over cuts.
A court-approved committee representing all retirees, including former general employees who have an average pension of about $19,000 a year, wasn't mentioned in either of the pension accord.
The case is In re City of Detroit, 13-bk-53846, U.S. Bankruptcy Court, Eastern District of Michigan (Detroit).
Before it's here, it's on the Bloomberg Terminal.
LEARN MORE