Canada Keeps Key Lending Rate 1% With Neutral Bias
Greg Quinn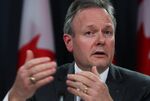 Bank of Canada Governor Stephen Poloz remained neutral on the direction of his next interest-rate move, saying he will downplay the quickening of inflation this year with companies still slow to invest.
Policy makers held their benchmark rate on overnight loans between commercial banks at 1 percent, where it's been since September 2010, as expected by all 18 economists in a Bloomberg News survey.
"The Bank continues to see a gradual strengthening in the fundamental drivers of growth and inflation in Canada," policy makers led by Poloz, 58, said in a statement from Ottawa today. "The timing and direction of the next change to the policy rate will depend on how new information influences the balance of risks," the bank said, a phrase that echoed the previous decision.
The economy's recovery "hinges critically" on a shift in demand from indebted consumers to exports and business investment, which will be aided by a weaker Canadian dollar and rising U.S. orders, the bank said today. The International Monetary Fund said last week Canada should maintain looser policy because there have been few signs of increased exports and business spending.
The Bank "kept to its decidedly neutral stance" and a rate increase "is still a year off," said CIBC World Markets chief economist Avery Shenfeld.
Dollar Reaction
Canada's dollar depreciated 0.4 percent after the decision to C$1.1018 per U.S. dollar at 4:18 p.m. in Toronto, as investors interpreted his statements as tilting toward looser policy.
"Poloz is aiming to have the Canadian economy ride the crest of the wave of U.S. economic growth," said Ken Wills, currency strategist at CanadianForex, an online foreign-exchange dealer, in Toronto. "He likely will keep jawboning the dollar down."
Asked if he was shutting the door on lowering his benchmark interest rate, Poloz said told reporters after the decision, "No, we are neutral, and that means rate cuts can not be taken off the table at this stage."
Policy makers are focusing more on the "subdued" rate of core inflation rather than the temporary impact on inflation of rising energy costs and a weaker currency, he said.
"We start from a low inflation rate and that's why we say the downside risks to inflation remain important," Poloz said. "While it's true that our forecast is that total inflation will rise in the next few quarters as a result of energy price increases, those are by definition transitory effects."
Inflation Projection
Inflation has been below the Bank of Canada's 2 percent target for 22 straight months, registering 1.1 percent on an annualized basis in February. Statistics Canada will publish March data at 8:30 a.m. tomorrow in Ottawa.
The bank today moved up its projection of when total inflation will return to its 2 percent target to the first quarter of 2015 from the last three months. The core inflation rate, which excludes eight volatile items and is used by the bank as an operational guide, won't reach 2 percent until the start of 2016.
Gross domestic product will expand 2.3 percent this year, the bank said, down from a January forecast of 2.5 percent, on a reduced contribution by business investment. The 2015 growth outlook remained at 2.5 percent, and today's Monetary Policy Report gave the first estimate of 2016 growth at 2.2 percent. The economy will reach its full capacity over the next two years, the bank forecast.
Export Forecast
Company investment will "rise gradually" in response to growth in exports fed by increased U.S. demand and a weaker Canadian dollar, the bank said. "The recent depreciation of the Canadian dollar, which has reversed a small part of the earlier deterioration in Canada's competitiveness, should help to promote stronger growth in exports," the bank said.
Those expected increases in exports and business investment have been elusive. The bank's current forecast for this year calls for exports to contribute 0.5 percentage points to 2.3 percent growth. A year ago, the outlook was for 2.8 percent growth with exports adding 1.5 percentage points.
The bank's forecast assumes the currency will stay in its recent trading range around 91 U.S. cents.
"The drop in the Canadian dollar relative to the U.S. dollar fundamentally helps our business," Don Althoff, Chief Executive Officer of Calgary-based pipeline operator Veresen Inc., said in an April 11 telephone interview.
The main risks to the inflation outlook remain stronger-than-expected U.S. demand, weakness in exports and "imbalances" in Canadian household finances, the Bank of Canada said today. The central bank reiterated the housing market is headed for a "soft landing" and that the ratio of household debt to income should stabilize.
Policy makers also added a new risk, posed by a potential major tightening of credit conditions in China and other emerging markets. Europe's economic recovery is threatened by political tensions in Ukraine, according to the bank's economic forecast paper.
Before it's here, it's on the Bloomberg Terminal.
LEARN MORE