A Small Irish Whiskey Brand Takes on Bacardi Over Trademark
By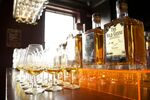 Small businesses can easily be outgunned by large corporations in the court of law. Andre Levy, a British liquor marketer grappling with some of the world's largest spirits conglomerates, hopes for a fairer shake in the court of public opinion.
In 2000, Levy launched a whiskey brand called Wild Geese. To Levy and his Irish wife Mairade, who live in Switzerland, the brand clearly evoked the story of 17th century Irish soldiers, known as the Wild Geese, who fled to France at the end of a war with the English. Pernod Ricard, the spirits company that owned Wild Turkey bourbon at the time, thought the new brand looked like a trademark violation.
Levy, like the Irish soldiers that inspired him, eventually capitulated before a more powerful opponent. In 2008, he added the phrase "Irish Soldiers and Heroes" to the name on bottles sold in the U.S., which he says sufficiently distinguished it from the other wild fowl-branded booze. He later added the tagline "Untamed," registering the mark with the U.S. Patent & Trademark Office in 2011.
Now Levy is grappling with another big liquor company. Last year, Bacardi sought to register the phrase "Bacardi Untameable" with the USPTO. Levy filed an objection and hopes to persuade the trademark office that Bacardi's application, if approved, would violate his existing mark.
He worries that Bacardi will continue using its phrase, regardless of what the trademark office rules. "We would have to take Bacardi to court," he says. "That would take years and cost substantial amounts of money."
Bacardi spokeswoman Amy Federman says in an e-mail that the company "has nothing to add to your piece in response to the allegations."
Levy says his company, Avalon Group, which markets whiskey, gin, and rum, had $5.25 million in sales in 2012. Bacardi, which also owns Dewar's whisky and Grey Goose vodka in addition to its flagship rum brand, has estimated revenue in the billions.
In addition to his formal objection, Levy launched a website that asks visitors to rally lawmakers and bartenders to his cause. His tone is blustery: "Bacardi's actions are a danger to all entrepreneurs and to Irish heritage," the website says.
Defending a trademark in court is expensive and complex, even for trademark holders that have slam-dunk cases, says Terence Church, an intellectual property lawyer at Brown, Church & Gee, a San Francisco Bay Area law firm. The law favors the company that uses the mark first in cases where a competing mark could confuse consumers. "The problem is that smaller companies rarely have the resources" to prove such cases in a court of law, he says.
Levy isn't the first small business owner to seek attention for a trademark tiff with a bigger company.
FiftyThree, the makers of a popular sketching app called Paper, published a blog post appealing (unsuccessfully) to Facebook to change the name of an app it launched this year, also called Paper. In December, Exit 6 Pub, a St. Louis-area microbrewer publicly mocked Starbucks after the coffee giant's lawyers sent a cease-and-desist letter over a beer called Frappicino.
Alex Montagu, a New York lawyer and the author of a book on intellectual property in the digital age, says going public with trademark battles may make sense for some small business owners, given the costs of seeing the disputes through the courts. "It does raise a broader question about dispute resolution mechanisms in our society," he says. "We have a very expensive legal system. Is it too cost prohibitive to work for anyone other than the select few? It's a good question."