Why Not Send a WASP to Judge a Kosher Cook-Off?
by
I don't know why Manischewitz asked me to judge its annual kosher cooking competition. And neither did anyone else.
"But you're not—" friends would say to me when I told them about my prestigious invitation to the 2014 Manischewitz All-Star Cook-Off. "I mean, isn't Manischewitz … and you're …?"
What they were trying to say was that Manischewitz is a well-respected company that's been preparing Jewish food according to kosher law for 126 years. It's the world's largest matzo manufacturer, and it even employs its own rabbis. Meanwhile, I come from a long line of people who tie pastel sweaters around their necks when they sip chardonnay, and I've never even had matzo ball soup. Asking me to judge a kosher cooking competition is like asking Miley Cyrus to guest-edit an Emily Post book. It's a terrible idea that will wind up offending almost everyone.
But the folks at Manischewitz promised me that my utter ignorance wouldn't be a problem. In fact, that's why they sought me out. "What we want to know is: Is kosher the next big thing? Can it go mainstream?" explained David Rossi, Manischewitz's self-described "Italian and atheist" vice president of marketing. He, too, was unfamiliar with kosher food until he joined Manischewitz.
Rossi explained that Manischewitz has been taking note of Americans' push to eat healthier by doing things like cutting gluten, buying organic, and pretending to like kale. If people are willing to pay $12 for salads made out of what's essentially a deli tray garnish, the company reasoned, then surely the right marketing campaign could entice them to buy kosher, too.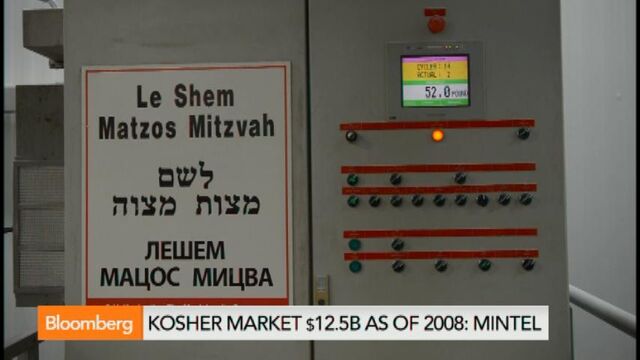 It's not a bad idea. In fact, it may already be happening. The kosher certification group Orthodox Union estimates that the kosher market has been growing by 15 percent a year since at least 2009. Most people who buy kosher these days don't actually keep kosher—and a lot of them aren't even Jewish. "You always know what's in—or isn't in—kosher food, and people like that," Manischewitz's in-house Rabbi Yaakov Horowitz told me. Kosher-for-Passover foods are wheat-free, and anything marked "pareve" has no meat or dairy. (Of course, just because something is missing an ingredient doesn't mean it's actually good for you. I once watched a woman eat a gluten-free pizza that had substituted a giant slab of sausage for the crust.)
Manischewitz has been running its cook-off since 2007 to educate kosher-ignorant idiots like me. Every year the company selects five people out of about 2,000 entrants to travel to New York and showcase their most creative kosher recipes. Manischewitz then touts the winners as proof that their products can be used to make non-Jewish food. Rossi picks the finalists himself through an intensive process he describes this way: "First I get rid of all the recipes with pork or shellfish in them." Past contests have featured recipes for Ethiopian chicken stew, falafel pizza, matzo panini, and something called "Sloppy Moses," which is a regular sloppy Joe that comes with extra guilt.
And so I recently found myself in Manhattan's Jewish Cultural Center, taste-testing five new Manischewitz recipes. Sadly, none of them contained matzo balls. "It's hard for a soup to make the cut," Rossi said. Everyone already knows how delicious matzo ball soup is—well, maybe not everyone—and Manischewitz wants people to invent new dishes rather than perfect the classics. Last year's $25,000 prize winner was a recipe for "faux pho," which is now Manischewitz's most popular Vietnamese-Jewish fusion dish—mostly because it's Manischewitz's only Vietnamese-Jewish fusion dish.
There were about 85 people in the audience, most of them related to at least one of the contestants. Once they figured out that I was a judge, they converged on me like a pack of wild hyenas—specifically, wild hyenas who wanted to know what kind of job I had, if I was single, and had I met their grandson. One family asked me to take their picture with their daughter Dina, who was frantically sticking bits of latke onto raw chicken. Another family tried to buy my vote by offering to give me a car. And Rabbi Horowitz cornered me for 20 minutes while he talked about mad cow disease and "that horse meat scandal" before asking if I wanted to learn about the history of kosher food in colonial America.
I'm not used to so much familial interaction. When my family gets together, we mostly compare boat shoes and talk about the color beige.
The cook-off contestants had one hour to fix their meals while the judges inspected their techniques. As you would expect at a kosher competition, the other judges were either Jewish, editors at cooking magazines, or Jewish cooking magazine editors. One of them had even been a judge for Throwdown With Bobby Flay. I was way, way out of my league.
"What's that?" I asked contestant Joe Carver, a cardio-oncologist from Philadelphia who was making a delicious-looking vegetarian noodle casserole thing. "It's a kugel," he replied, looking at me as if I'd just asked him if he believed in Santa.
In addition to Joe's kugel and Dina's latke-crusted chicken, I sampled beef tenderloin puff pastries made by a Maryland grocery-store clerk named Ronna; sautéed halibut with couscous from a Miami school psychologist named Naylet; and matzo-fried chicken and latke waffles with a sriracha-maple syrup glaze from a Napa insurance broker named Jamie. Jamie ended up winning based solely on the fact that her dish was the only one that wasn't dismally bland.
That, I think, will be Manischewitz's biggest challenge when it goes after that wider, foodier audience. Jewish cuisine has a reputation for being tasteless and boring—which, as someone who grew up eating a lot of British food, I completely empathize with. My favorite dessert is bread pudding, which is made by soaking day-old bread in heavy cream. It looks mushy and gross and, as much as I love it, I have no idea what spurred someone to invent it in the first place. Come to think of it, it's not too far off from taking a big ball of matzo and dropping it in soup.
Before it's here, it's on the Bloomberg Terminal.
LEARN MORE