Smartphones and Social Media Power China's E-Shopping Revolution
Christina Larson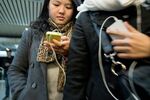 When twenty-something marketing assistant Li Hui needed to find a dress to wear to her sister's wedding in Jiangjiakou last summer, she looked online. Although shopping malls and bridal boutiques are plentiful in Beijing, where she lives, Li says that shopping online is "faster and more convenient" and offers a wider selection. And it's easier to compare prices online.
Li's affinity for e-tailing is hardly unique in China, where three-quarters of online shoppers make purchases at least weekly, according to a new survey by PricewaterhouseCoopers. And mobile is king. Of those online shoppers, 77 percent made at least some of their purchases online using smartphones.
Meanwhile, social media is increasingly an important force for defining taste and driving purchases in China (even as government censorship limits online political discussion). Eighty-six percent of survey respondents in China told PWC that they use social media platforms, such as Tencent's Weixin (WeChat), to collect information about brands or to make purchases directly.
China's new middle class has shown greater eagerness to shop online than consumers in all other countries surveyed. In the U.S., just a quarter of online shoppers make weekly purchases, and only 29 percent shop using their mobile phones. While the U.S. is home to social-media powerhouses Facebook and Twitter, just 29 percent of American online shoppers told PWC that they gather brand information or make purchases through social media platforms.
In addition to China, a preference for e-shopping on mobile devices is evident in other developing countries, where many consumers who never owned desktop computers now have smartphones. According to PWC, 69 percent of India's online shoppers make purchases using their mobile phones. So do 49 percent of South Africa's online shoppers.
In China, Alibaba's Taobao.com is the single largest platform for consumers looking for anything from sunglasses to wedding dresses. Alibaba also allows small businesses to set up their own online stores through Taobao—a service now utilized by urban and rural entrepreneurs alike to find new customers.
As of December 2013, more than 2 million Taobao stores were registered to rural IP addresses in China. One example is an online store selling "naturally grown" fruits and vegetables from the tiny hamlet of Bishan in Anhui province to health-conscious urban consumers. Village officials promote seasonal selections online using Sina Weibo, China's Twitter.
Before it's here, it's on the Bloomberg Terminal.
LEARN MORE