J&J Raises Forecast as Demand for New Drugs Boosts Profit
Michelle Fay Cortez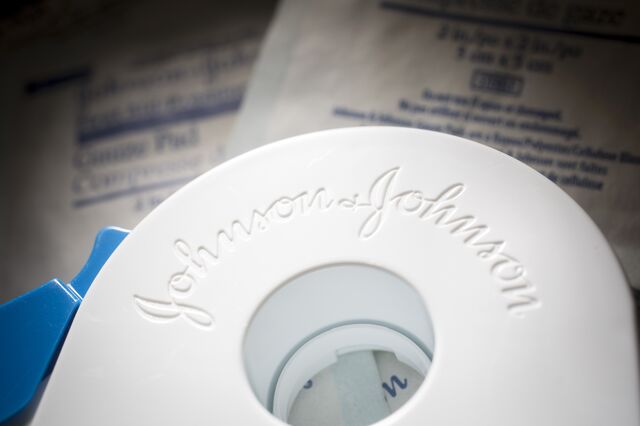 Johnson & Johnson, the world's biggest maker of health-care products, beat expectations and raised its 2014 forecast by focusing on new drugs and reducing its reliance on medical devices.
The drug division overtook medical devices as the company's biggest unit after its sales surged 11 percent to $7.5 billion. The growth, the fastest among the top 10 pharmaceutical companies worldwide, obscured a drop in demand for consumer goods and sales that were essentially unchanged in devices and surgical products after the harsh winter waylaid elective medical procedures.
While quarterly sales increased for medicines such as Stelara for psoriasis and Zytiga for prostate cancer, the performance of the hepatitis C drug Olysio was responsible for most of the $1 billion bump in the 2014 revenue forecast, Chief Financial Officer Dominic Caruso said in a conference call.
"There is no question they have had a string of pretty great wins in pharma that has taken four or five years to build," said Matt Miksic, an analyst at Piper Jaffray in New York. "Pharma is the standout and it's probably going to remain the story for at least another 18 to 24 months."
The company raised its 2014 forecast to $5.80 to $5.90 a share from $5.75 to $5.85 a share, excluding one-time items. Annual revenue is expected to be $74.5 billion to $75.3 billion.
J&J rose 2.1 percent to $99.20 at the close in New York, the highest share price in more than 34 years, according to data compiled by Bloomberg. The shares have gained 21 percent in the past 12 months.
Analysts' Estimates
As the first major health care company to report earnings, J&J set the stage for its competitors. Net income rose 34 percent to $4.7 billion, or $1.64 a share, from $3.5 billion, or $1.22, a year earlier, the New Brunswick, New Jersey-based company said in a statement. Earnings excluding one-time items of $1.54 a share outpaced the $1.48 average of 16 estimates compiled by Bloomberg.
First-quarter revenue increased to $18.1 billion from $17.5 billion a year earlier, driven by Stelara, Zytiga, Invega Sustenna for schizophrenia, Prezista for HIV and Xarelto to prevent blood clots. The company also posted increases for specialty surgery, cardiovascular and vision care.
Olysio, approved in November, received a boost when guidelines from medical societies that deal with hepatitis C infections in January recommended using J&J's drug with Gilead Sciences Inc.'s Sovaldi for patients who can't tolerate interferon, formerly a standard component in cocktails to treat the disease. That has become the standard of care, Caruso said.
Olysio 'Surprised'
"Olysio surprised by reporting sales of $354 million, primarily sold in combination with Gilead's Sovaldi," Derrick Sung, a Sanford C. Bernstein analyst, wrote in a note to investors.
It's not clear if the benefit will persist, as rival medicines that don't use interferon are on the horizon and may reach the market later this year, Caruso said. J&J will reassess the drug's long-term outlook after those products are released, he said.
The company declined to release sales figures for Imbruvica, its breakthrough drug for chronic lymphocytic leukemia, the most common adult leukemia. J&J's partner on the drug, Pharmacyclics Inc., will provide details on the drug's performance when it announces first-quarter earnings.
The pharmaceutical division's strong performance helped the company withstand a 3.2 percent drop in sales of consumer goods and over-the-counter medicines to $3.6 billion. Revenue from medical devices and diagnostic were unchanged at $7.1 billion, with U.S. sales falling 1.6 percent on weak prices and demand.
"We are very pleased with our strong start to 2014 and I believe we are well positioned for growth in this dynamic health care environment," Caruso said during a conference call with analysts and investors.
Before it's here, it's on the Bloomberg Terminal.
LEARN MORE