Infosys Forecast Beats Estimates on Outsourcing Contracts
Bianca Vázquez Toness and Suresh Seshadri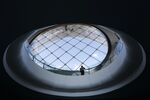 – Infosys Ltd. forecast full-year sales growth that beat analyst estimates as India's second-largest software-services exporter cut costs and won more outsourcing contracts. The shares rose.
Revenue in the 12 months started April 1 will climb 7 percent to 9 percent in U.S. dollar terms, Infosys said in a statement today. That compares with revenue growth of 6-8.3 percent, according to the average of six analyst estimates compiled by Bloomberg. The company also posted a 25 percent jump in fourth-quarter earnings.
Billionaire co-founder N.R. Narayana Murthy, who returned as chairman in June to help revive revenue growth, has reshuffled top management and boosted margins by trimming costs. Infosys won orders from Volvo Cars and U.S. pharmacy benefit manager Prime Therapeutics LLC helping the company based in Bengaluru, earlier known as Bangalore, increase sales.
"Considering that Infosys is reinventing itself, the market will give them the benefit of the doubt," Tripatinder Chowdhry, an analyst at Global Equities Research, said in an interview with Bloomberg TV India. "Infosys has to gain some new capabilities and it will take some time."
Shares of Infosys rose 0.8 percent to close at 3,259.80 rupees, the highest level since April 7, in Mumbai trading. The benchmark S&P BSE India Sensex Index fell 0.6 percent.
Profit Beats
Net income rose to 29.9 billion rupees ($496 million) in the three months ended March 31, Infosys said in a statement today. That exceeded the 28 billion-rupee median of 40 analysts' estimates compiled by Bloomberg.
Sales for the fourth quarter rose 23 percent to 128.8 billion rupees, compared with the 129.7 billion rupee median of 41 estimates.
Infosys, which designs and builds software programs, maintains computers and provides IT and outsourcing services for companies including AT&T Inc. and Swedish insurer Lansforsakringar AB, added 50 customers in the quarter.
"Our exit momentum has been lower than what we anticipated, that will always impact our next year's growth to start with," Chief Executive Officer S.D. Shibulal told reporters today, referring to sales momentum in the last two quarters of the year ended in March. Because "in the fourth quarter we've not grown, our next year's guidance is 7-9 percent," he said.
Workforce Restructured
Murthy has restructured management teams, cut costs, streamlined business, and focused on sales since returning as executive chairman in June.
"They've made a conscious effort to cut down on costs and that's a good thing," Harit Shah, an analyst with Nirmal Bang Institutional Equities in Mumbai, said before the earnings announcement. "It has reflected in the margins picking up in the last two quarters. To what extent they can further go up remains to be seen."
Murthy expects improvements in sales performance to start showing "visible results" by the first quarter of the year starting in April 2015, he told investors last month.
"We had hired lots of people at huge salaries outside India and these people did not add value to the company," Murthy said on a Bank of America Merrill Lynch India Investor Conference Feb. 19. The company worked to "ensure that either they were given opportunities where they could add value to the company or they could seek opportunities elsewhere."
Worldwide information technology services spending is expected to increase 3.7 percent to $671 billion in 2014, accelerating from 2.8 percent growth last year, according to researcher IDC.
Tata Consultancy Services Ltd., India's biggest software exporter, will announce fourth-quarter earnings tomorrow.
Growth Drivers
"Cloud-platform solutions, mobile and analytics are likely to drive growth, even as the industry contends with cuts in U.S. federal government IT spending and offshore scrutiny of IT vendors," Anurag Rana and Mandeep Singh, analysts at Bloomberg Industries, wrote in February.
Infosys added a net 2,001 workers last quarter to end the period with a total of about 160,000 employees as of March 31, according to a company statement.
Compensation of its workers at client locations will be raised 1-2 percent in the year started April 1, while pay of those located at its own offices will be increased by 6-7 percent, Shibulal said.
Infosys has started to look for a successor to Shibulal, the company said April 11. The CEO is set to retire by January.
The nominations committee of the board of directors has hired Egon Zehnder, an executive search firm, to help identify external candidates for the job, the software-services provider said.
Before it's here, it's on the Bloomberg Terminal.
LEARN MORE