pursuits
In Sports Movies, Athletes Are No Longer the Star
By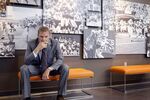 "Every battle is won before it is ever fought." So reads a plaque on the wall of embattled Cleveland Browns General Manager Sonny Weaver Jr.'s (Kevin Costner) office in Draft Day. Athletes may often be told that anything can happen on the field, but director Ivan Reitman's film, a fictional sports drama that takes place in a single day of NFL Draft horse-trading, suggests that the front office is where the real action happens. It's an executive vision of football glory: You don't need to put on a helmet and throw a game-winning touchdown. Just put on a tie and make a franchise-saving deal.
Draft Day made less than $10 million on its opening weekend, but it's the kind of film that will eventually do heavy rotation on cable, alongside other sports-themed Costner movies such as Bull Durham and Field of Dreams. We can also use Costner's movie career to chart the way Americans' attitudes toward sports have changed. In the 1980s and '90s, he was cinema's go-to guy for movies about savvy but weathered athletes—from the veteran baseball pitchers he played in Bull Durham and For Love of the Game to the washed-up golf pro in Tin Cup.
Now 59, Costner isn't about to take the field again anytime soon. But he doesn't have to. Today, our sports heroes are as likely to be brave executives as much as they are star athletes. There's Brad Pitt as Oakland A's GM Billy Beane in Moneyball and Harrison Ford, who shared star billing, as Brooklyn Dodgers GM Branch Rickey in the Jackie Robinson biopic 42. Previously, callous executives were often the villains in sports movies. They were the stuffed-shirt management guys like those in the football classic North Dallas Forty.
The shift in glory makes sense. Front-office decisions are now a part of the spectacle of modern-day sports, reported on and fretted about by the press and fans daily. Thanks to fantasy sports, a $3.6 billion market, many of those fans regularly play at being general managers themselves. Today, the NFL Draft is its own prime-time ratings bonanza.
There's almost zero actual football in Draft Day, but that doesn't matter. The currency of this world isn't physical prowess but the ability to fast-talk your opponent and strategize around the future of your team. These characters don't talk about Hail Mary passes or winning one for the Gipper, but about salary caps and signing bonuses and final offers. Sonny even has a beautiful girlfriend named Ali (Jennifer Garner), who also happens to be his salary cap manager. At one point in the movie, he tells her how, in the waning seconds of one losing Super Bowl game, the great Joe Montana saw the actor John Candy in the stands and pointed it out to his teammates. This instantly calmed the nerves of a team on edge. "No one can stop a ticking clock except the great ones," Sonny says. "So stop the clock, Sonny," the doting Ali replies. It's a moment of pure white-collar wish-fulfillment. The guy who sits behind a desk gets to play at being Joe Cool himself.
Before it's here, it's on the Bloomberg Terminal.
LEARN MORE