AOL Bets More of Its Home Page on Video
By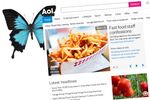 If it seems like there's a lot more video on the Internet these days, you're right. And more is coming, the latest being AOL, which today added a new module for videos on its home page. The move also represents a bid for greater exposure for a passel of news, sports, and entertainment shops that have moved heavily into video production, such as the Wall Street Journal, the New York Times, Vanity Fair, and Sports Illustrated. AOL now hosts their videos in this prominent new spot.
Short video has become the hottest commodity in the online media wars, given its typically higher advertising rates. Advertisers also prefer video to traditional banner or display ads, while news organizations have been keen to explore video as an alternative storytelling vehicle.
"Our partners want to work with us because they're looking for eyeballs and they want that distribution," says AOL.com President Maureen Sullivan. The company, which also owns the Huffington Post and TechCrunch, hopes to use its extensive video collection to "dynamically program" the top of the home page in a more focused manner, she says.
AOL has incorporated the videos in a more centralized location directly beneath the rotating collection of 35 stories AOL posts atop its home page. The company has also signed deals with several experts to create new videos, such as retired NFL running back Tiki Barber discussing sports or Alexa von Tobel, founder of LearnVest.com, talking personal finance.
Average user time on AOL.com topped 30 minutes in March, driven partly by an increase in video viewing, a duration that greatly pleases AOL executives. AOL says its visitors last month each watched 17 videos, higher than rivals MSN (11.6 videos) and Yahoo.com (9.2 videos). AOL has 7.4 million daily unique visitors.