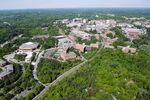 With the $16 billion college sports industry under siege from lawsuits and player-unionization efforts, one academic scandal—at the Chapel Hill campus of the University of North Carolina—has come to represent key aspects of the debate about Division 1 football and basketball players. In response, UNC's top leadership continues to try to deflect attention from widespread classroom misconduct by attacking the low-ranking staff tutor who helped reveal the scandal.
In 2011 the tutor, Mary Willingham, gave crucial assistance to Dan Kane, an intrepid reporter with the Raleigh News & Observer who uncovered the long-standing practice by academic advisers at Chapel Hill of steering basketball and football players into fake classes offered by the school's black-studies department. The department pretended to offer lecture courses, but the classes never met. Students received A and B grades for submitting a single paper, which they often cobbled together from material copied from the Internet, according to Willingham.
University officials eventually acknowledged the main thrust of Willingham's revelations: that more than 200 phony courses were offered and hundreds of grades were changed without authorization. In February, Bloomberg Businessweek published a cover article I wrote about Willingham and other secret academic enablers who keep the college sports business humming. CNN, HBO, and ESPN have broadcast important stories about the UNC fiasco.
Rather than grapple directly with how university employees and instructors launched on this egregious adventure of keeping scholarship athletes academically eligible by means of fraud, UNC's leadership has gone after Willingham personally. Employing a classic kill-the-messenger playbook, top officials have questioned her credibility and demoted her. On Friday the university reiterated previously raised questions about unpublished research she did on one group of incoming Tar Heel athletes whose reading skills she concluded were nowhere close to college level.
UNC released a trio of reports commissioned from outside experts to rebut Willingham's findings on freshman athlete reading levels. These experts, UNC said, did not find evidence to support Willingham's "claims about widespread low literacy levels" among football and basketball recruits who had been screened for learning disabilities. Instead, the outside reviewers "determined that the majority of the students referenced in the public claims scored at or above college entry level" on the reading vocabulary test Willingham used.
The three experts were Nathan Kuncel, a psychology professor at the University of Minnesota; Lee Alan Branum-Martin, associate professor of psychology at Georgia State University; and Dennis Kramer, assistant professor of higher education at the University of Virginia. Their findings support earlier assertions by UNC Provost James Dean, who publicly derided Willingham's research as "a travesty."
Frankly, it's difficult for a nonexpert to sort out this statistical dispute. When I interviewed Willingham, she stood behind her work and said Dean had mischaracterized it. The diagnostic test on which she relied was administered by a UNC-hired Ph.D. psychologist, she pointed out. The university has since terminated the contract of that psychologist—a move that raises suspicions in my mind.
Willingham told me her work included a writing test as well as the vocabulary questions assessed by the outside experts. And her evaluation incorporated athletes' SAT and ACT entrance exams, she said. As best I can tell, UNC's hired experts weren't asked to look at all the information on which Willingham based her conclusions. Why not? And why didn't they interview her to try to get to the bottom of the confusion?
Then there's this perplexity: The majority of the students Willingham evaluated were "special admits," meaning their enrollment at UNC required officials to give extra consideration and weight to their athletic prowess. Without their running or dribbling or passing talents, they might not have gained admission (to put it politely). Yet the trio of retained experts "determined that the majority of the students … scored at or above college entry level." I'm no literacy guru, but if the young jocks are scoring at or above college level, why did they require special consideration to gain admission in the first place? Why were they being screened for learning disabilities? Weird.
In response to Friday's announcement from UNC, Willingham said via e-mail:
"I am disappointed that the university neglected to take even the most basic steps to ensure the integrity, impartiality, and fairness of its supposedly 'independent' review of my data. The fact that they engaged in this exercise without ever seeking input from me or my research partner, and without the raw scores, or an examination of the full battery of tests (on a majority of these same athletes) … speaks volumes about the true motivations behind today's press release. UNC personnel with the knowledge and expertise to verify my claims continue to remain and/or are being forced to remain silent."
A final, much larger point: Willingham isn't a professional researcher. She's a reading tutor with a masters degree. If, when all the dust settles, it turn out she has misinterpreted some data on athlete reading levels, she should acknowledge that. We're not there yet, though.
Meanwhile, the university has not identified who within its athletic department knew about the routing of basketball and football players into Potemkin classes, why this fraud was permitted to continue from the 1990s through 2011, and whether members of UNC's national championship basketball teams of 2005 and 2009 remained academically eligible only because their transcripts were padded with dubious grades in classes that never met. Conducting a kangaroo court to convict Mary Willingham isn't going to resolve those questions.
Oh, and where are the investigators from the National Collegiate Athletic Association? How long can the NCAA avert its eyes?
NOTE: Peter Grauer, the chairman of Bloomberg L.P., which owns Bloomberg Businessweek, is a trustee of the University of North Carolina at Chapel Hill and sits on its Foundation Board and the UNC Global Research Institute Board.
Before it's here, it's on the Bloomberg Terminal.
LEARN MORE