No Flash Boys in China's Sleepy Over-the-Counter Markets
Bloomberg News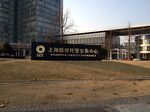 Shanghai's over-the-counter equity market was almost deserted on a weekday morning last week. Two cleaning ladies swept the floor of a trading hall devoid of brokers or computers, while a woman at an information desk ate breakfast and talked on her mobile phone.
During four visits this year to the market, set up in 2012 in an industrial park a half-hour's drive from the city's main stock exchange, no prospective investors were in evidence. Fewer than one-third of the 150 companies listed on two large screens have ever traded, according to ChinaScope Financial Ltd., a Shanghai-based data provider.
It isn't much different at three other over-the-counter exchanges in Shenzhen, Beijing and Shandong province visited over the past five months. Trading restrictions and slowness to amend rules make transactions there costly and inefficient.
"From Shanghai to Chongqing and Qilu to Tianjin, there isn't much activity on regional equity markets," said Lucas Lu, a vice president of ChinaScope, which is affiliated with Moody's Analytics Inc. "The biggest issue is how to make them function like real markets, how to make trading more active on these markets to get the funding to the small businesses."
The stagnant markets are one more example of the difficulty the government faces keeping the economy expanding by channeling funds to small and medium-sized companies, more than 90 percent of which can't get bank loans, according to Citic Securities Co., China's largest brokerage. Instead they turn to high-interest borrowing in the country's shadow-banking system. China needs to provide as much as 20 trillion yuan ($3.2 trillion) annually to keep economic growth at 7 percent, McKinsey & Co. and China Ping An Trust Co. wrote in a November report.
Embracing OTC
China is not alone in trying to ensure that markets are efficient and fair. U.S. regulators are under pressure to reconsider stock-trading rules in the world's biggest capital market after best-selling author Michael Lewis said his new book "Flash Boys" shows that the markets are rigged in favor of high-speed traders.
China's city and provincial governments have embraced their OTC exchanges, with at least 18 set up during the past two years. That has coincided with an expansion of China's shadow-banking system to 46.7 trillion yuan, or 84 percent of gross domestic product, by the end of September, according to JPMorgan Chase & Co. estimates. The period also was marked by a 15-month freeze on initial public offerings and economic growth that slowed to 7.7 percent a year, from more than 10 percent annually over the previous eight years.
Shanghai, Shenzhen
The nation's two main stock exchanges, in Shanghai and Shenzhen, provide financing for about 2,340 companies, while bond markets are accessible mainly to state-run firms and government entities. Under a plan announced last week, Chinese regulators will start a trial program allowing cross-market stock investment between Shanghai's and Hong Kong's exchanges.
The Shanghai Composite Index extended the biggest five-day rally in eight weeks today. It gained 3.5 percent last week after the announcement of the mutual-access deal.
The push to have alternative markets that raise capital for small business "is an attempt to compensate for the fact that the banking system actually doesn't function in a way that delivers credit to the enterprises," said Nick Gardiner, a Hong Kong-based partner at Boston Consulting Group Inc. "Many of these companies are so small and intransparent."
Suicide Surge
The need for such markets has taken on a new urgency following a surge in bankruptcies in the past two years. Lawsuits related to underground lending in courts across China climbed 25 percent in the first half of 2013, with petitioners in 443,631 cases claiming more than 110 billion yuan, according to a Dec. 3 report by the Legal Daily.
A regional equity exchange was set up in Zhejiang province south of Shanghai in 2012, the same year scores of businessmen there, unable to make payments on underground loans, disappeared or committed suicide. Only 10 percent of its companies traded in 2013, according to ChinaScope.
China's newest local over-the-counter market, the Qingdao Blue Ocean Equity Exchange, is scheduled to open this week. Funded by Citic Securities and Guosen Securities Co., it is the second such market in Shandong province, according to China National Radio.
'Rather Weak'
"Over-the-counter markets across the country are rather weak in terms of helping companies raise capital," Zhang Yunfeng, vice chairman and general manager of the Shanghai Equity Exchange, said at a forum in June. "Such markets can't help promote the development of small and medium-sized enterprises or solve their financing problems."
Zhang forecast that more than 50,000 small and mid-sized companies in China may seek funding from capital markets in the next three to five years, according to a report on the website of the People's Daily newspaper today.
The ineffectiveness of the local exchanges stems partly from China skipping a few steps, analyst Pan Hongwen, then with Citic Securities, wrote in a report last June.
In China, "the development of the nation's capital markets didn't follow the order of primitive to sophisticated," Pan wrote. "Instead, it put aside the OTC market, which existed first, for the national capital market system."
That left the nation without official avenues for businesses to tap capital until they became big enough to raise money through an IPO. The conventional stock exchanges set up in Shenzhen and Shanghai in 1990 set "very strict requirements" that most small businesses can't meet, he wrote.
National Laws
China has no national laws governing the regional markets, leaving it to city and provincial governments and exchange operators to set their own rules.
"It's still not clear what these markets can or cannot do," said ChinaScope's Lu. "The markets need to develop uniform rules and trading systems because with over 20 markets, there will be 20 sets of rules."
In an effort to boost their appeal, local markets, many of them funded by private capital, tout simpler listing procedures than those offered by national exchanges, which are governed by China's securities regulator. Most also have sole discretion for reviewing and approving listing applications from companies.
At Shanghai's over-the-counter market, companies aren't required to meet minimum profit or revenue targets and must only have net assets of at least 5 million yuan. On the main board of the city's traditional stock exchange, firms must show three years of profit totaling more than 30 million yuan on revenue exceeding 300 million yuan and also are required to seek listing approval from the China Securities Regulatory Commission.
'Huge Gap'
The easier requirements haven't been enough to overcome an absence of market makers, or institutions that provide liquidity by acting as ready buyers and sellers of shares. A 2011 State Council directive, issued after a crackdown on illegal trading platforms, prohibits regional markets from using market makers. That has made over-the-counter transactions inefficient and costly on those markets.
"Without securities companies playing the role of market makers, trading volume is low on over-the-counter markets," according to Zhang Qi, a Beijing-based analyst at Zero2IPO Group, which provides research and data on venture capital and private equity. "The exchanges don't provide efficient pricing as there's always a huge gap between bid and ask prices."
Market makers bridge the information gap in over-the-counter exchanges and bring down expenses, as they have access to buyers and sellers. They may hold inventory of certain stocks, ensuring timely transactions. The dealers earn a profit by creating a spread between the price at which they acquire the securities and the price at which they sell to investors.
'Critical Mass'
Such brokers are crucial for creating a market in which investors can be confident about their ability to sell a stock and companies will be more inclined to trade on such an exchange, according to Boston Consulting's Gardiner.
"You need a critical mass of companies, market makers and investors to make this whole thing work," said Gardiner. "Otherwise, you have insufficient liquidity and it is very sub-scale and very intermittent. You are helping the occasional firm, not the broad, massive small and mid-sized businesses."
China started a national over-the-counter exchange, the National Equities Exchange and Quotations market, in Beijing in January. More than 600 small and mid-sized companies from across the nation are listed, and about 450 million yuan has been raised through 21 share sales on the market, where 78 percent of companies post annual profit of less than 10 million yuan, the CSRC said in a statement in February.
While the regional over-the-counter exchanges aren't overseen by the CSRC, the government backs their development.
Lawmakers' Pledge
Lawmakers pledged in November to develop a "multilayer capital market system" and "multichannel equity financing." A 60-point statement issued after a four-day meeting known as the plenum didn't elaborate on specific measures. Premier Li Keqiang told the annual meeting of the legislature in Beijing last month that the government will speed up the process to give markets a more decisive role in allocating resources.
Local governments, undeterred by the thin trading, see regional markets as a way to impress top leadership, said ChinaScope's Lu.
"They are trying to get ahead of the others even though the market infrastructure is still lagging behind," Lu said.
At some exchanges, scalpers acting as intermediaries between investors are trying to fill the role of market makers.
Loitering Scalpers
During a December visit to the three-year-old Qilu Equity Exchange, one of China's oldest, half a dozen loitering scalpers could be seen waiting to accost investors as they entered the second floor of a 12-story building in the dusty city of Zibo, about 420 kilometers (260 miles) southeast of Beijing.
ChinaScope data shows that less than half of the 300 companies listed at the exchange have ever traded. Of the 11 firms that appeared on the electronic board, only three showed bid and ask prices blinking green and red.
The trading area is used mainly to host public events such as listing ceremonies because most transactions are negotiated privately between companies and investors, according to Gao Pengfei, head of market development at the exchange.
"If you picture a multilayer capital market as a triangle, regional exchanges such as Qilu form the base of that triangle," Gao said in an interview. "China's capital market is still an inverted triangle. While we have made some progress, the number of companies that regional exchanges are serving is still very small."
Mushroom Capital
For some companies, the markets provide much-needed capital. Su Jianchang, a 38-year-old mushroom farmer in coastal Shandong province, said he built new plants and boosted profits almost eightfold after his company listed on the Qilu exchange in 2011. He employs 380 people now, up from about 80 before the trading debut.
A year earlier, Su sold his two homes in Zibo and plowed almost all his profits into new farming facilities as demand for mushrooms from consumers in China, Japan and South Korea soared. When he found that insufficient, rural credit cooperatives in the village of Qihe wouldn't grant him loans without three corporate guarantors. The annual interest rates on loans from friends and relatives were a crippling 15 percent to 20 percent.
Su, who started the business in 1999 with 20,000 yuan from his father and a 50,000 yuan personal loan from the only lender in his hometown, heard from a friend about the local over-the-counter market. In 2011, he spent about 1 million yuan on listing and advisory fees. Within three months, he sold 40 percent of Qihe Biotech Co. to about 100 investors for 33 million yuan through the exchange.
Rural Financing
The Qilu exchange has played "a major role" in expanding financing options for small companies, he said.
"It's very, very difficult for grass-roots companies from rural areas to get financing," said Su. "We are from a remote area, but we, too, have very good investment projects."
Su is now eligible for bank lending and tells loan officers his company won't pay more than the central bank's benchmark lending rate, currently about 6 percent. A local private-equity firm invested in the company this year, and Su said he now plans to list on the Shenzhen Stock Exchange.
To drum up more interest from such companies, some regional markets such as the Qianhai Equity Exchange in Shenzhen, across the border from Hong Kong, have focused on debt financing. Others including Zhejiang Equity Exchange are experimenting with new ways to broaden financing for companies.
New Securities
Zhejiang Lonsid Healthy Drinking Water Equipment Co. in Wenzhou last year attracted commitments for 58 million yuan from 20 investors when it sold preferred shares through the Zhejiang exchange. The seller of water purifiers proposed the financing in October, before the State Council issued guidelines for a trial program for selling preferred stock on the two conventional exchanges.
Such success stories make ChinaScope's Lu optimistic about prospects for China's over-the-counter markets.
"Companies always need to raise capital," Lu said. "Before they can seek a listing on the conventional stock exchanges, over-the-counter markets offer a very good fundraising platform."
"Regional OTC markets are here to solve the mismatch of supply and demand of capital," Gao said. "The responsibility is heavy and the journey is long."
— With assistance by Aipeng Soo
Before it's here, it's on the Bloomberg Terminal.
LEARN MORE