Five Reasons India's Elections Are More Interesting Than Yours
By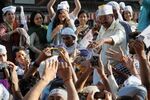 As you've probably heard, there are some 815 million eligible voters in India's national elections, which are under way and will stretch until May 121. The polling process is awesome in its complexity, and the campaigns have given rise to robust debate about the nation's future among the competing parties. But here's something else not to miss: It's all pretty damn colorful.
A sampling:
1. Upstart politician Arvind Kejriwal keeps getting slapped on the campaign trail. And when we say slapped, in some instances it's looked to be a knock-the-taste-out-of-your-mouth-with-a-palm-upside-your-head-in-broad-daylight slap. The headlines from the campaign trail have been along the lines of, "Kejriwal slapped again, second attack in last four days." A video of the March 28 incident and the ensuing melee is here. To see an April 8 incident, click here.2
There is, of course, a twist. The Times of India reports that for the Aam Aadmi, or Common Man Party, "Attacks on its leader Arvind Kejriwal appear to be a blessing in disguise. … Donations to the party have registered a significant increase after four of the five attacks on Kejriwal."3

And, of course, a turn: A spokesman for the presumed front-runner, Bharatiya Janata Party (BJP), referred to one assault as a "sponsored slap"—suggesting, with catchy alliteration, a staged incident designed to garner sympathy for Kejriwal. This is the same Kejriwal who won a stunning victory in Delhi last year, became chief minister, and quit after 49 days. BJP leader Narendra Modi has made a thinly veiled reference to him as AK-49, a helper of Pakistan.4
2. Speaking of Modi, it turns out he has a wife. Everyone knew he had been married, but it wasn't quite clear how to phrase things—former wife? current wife? alleged wife?—because he had not publicly acknowledged her. He didn't fill out the section for "spouse" in previous election filings. This month, Modi declared his assets and his wife. Indian press carried a statement by his brother explaining that the marriage had been a social formality carried out when both were very young. Modi's wife has reportedly left on a religious pilgrimage that has made her unreachable.
A journalist spoke with her earlier this year and presented the story of the woman, described as a retired schoolteacher, in Q&A form:5
Do you feel slighted that your status as a wife has not been acknowledged by him in all these years?
No. I don't feel bad, because I know that he is doing so due to destiny and bad times. In such situations he has to say such things and also has to lie. I don't see my situation as being bad because I feel, in a way, my luck has improved too.
Why have you never remarried?
After this experience, I don't think I want to. My heart is not into it.
3. Exit polls are banned in India, but reporting on betting rates for candidates is not. So if one was wondering where the vote is heading, this tip sheet is worth tracking: "Even before the Election Commission could declare the voter turnout for the 16th Lok Sabha elections, the street-betting rate on Narendra Modi plummeted—which was good news for the Bharatiya Janata Party's prime ministerial candidate."
4. Vote buying in India is a serious enterprise. We'll let the Election Commission of India explain (PDF):
"Feedback has been received about candidates indulging in various methods to induce the voters, which include outright payment of cash that amounts to bribery and other forms of inducements such as supply of liquor, food packets, holding of lunch and dinner parties in the name of "birthdays" and other "anniversaries" to give election related inducement, distribution of gifts in the name of masswedding and so on. … It is noticed that liquor is transported even from the far away States to the election going States. "
5. Campaigning in 3D. Behold the tweet of Modi:
1The vote, with results announced on May 16, is for the lower house of parliament, the Lok Sabha. The nation's next prime minister will come from the winning party, or the coalition that it forms.
2Kejriwal turned around the April 8 incident by visiting and forgiving the rickshaw driver who slapped him.
3For those puzzling over the numbers, one lakh is 100,000 rupees and one crore is 10 million rupees.
4The New York Times has a more measured analysis here.
5An account of trying to interview Jashodaben, the wife of Narendra Modi, is here and includes this passage:

"When I met her at the school, Jashodaben was as excited as a child and could not stop smiling. She expressed a desire to talk and tell her tale. But the principal of the school, Pravinkumar P Vyas, admonished her for talking to a journalist. "You will only talk to them after school hours. Now go back to your class," Vyas told her.

She pleaded, "Can I talk to her during the break? It will only take a few minutes." But the principal was unrelenting.

She left the room meekly, only to come back soon. She said,"I will not say anything against my husband. He is very powerful. This job is all I have to survive. I am afraid of the consequences." She then went back to her classroom."
Before it's here, it's on the Bloomberg Terminal.
LEARN MORE